Seed Grants Bring Disciplines Together
January 12, 2022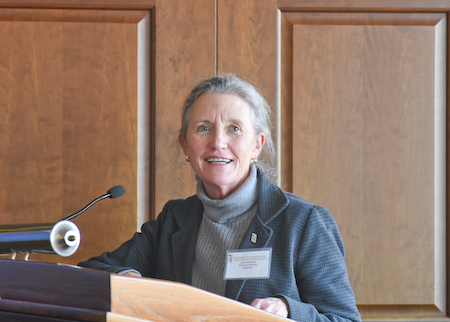 Addressing acute housing needs in the wake of COVID-19. Bridging curriculum gaps in pediatric and adolescent transgender care. Increasing the number of health professionals practicing in underserved communities.
These are among the goals of five research teams in the 2020-2021 round of seed grants awarded by the University of Maryland, Baltimore's (UMB) Center for Interprofessional Education (CIPE). The teams presented their preliminary results at the annual Interprofessional Education (IPE) Seed Grant Symposium on Nov. 17.
The center's seed grant program began in 2014, offering $5,000 to $10,000 grants to support 13-month pilot projects examining new ideas in interprofessional education or interprofessional team-based care. New projects have been funded each year as the seed grant program continues.
IPE was a major focus of former UMB President Jay A. Perman, MD, and it has continued under current President Bruce E. Jarrell, MD, FACS, said Jane M. Kirschling, PhD, RN, FAAN, the Bill and Joanne Conway Dean of the University of Maryland School of Nursing (UMSON) and director of CIPE.
A look at the seed grant projects and the research teams behind them:
The Triangulation of IPE, Simulation, and Telehealth in Health Professions Education:
A Pilot Study Between Medicine, Nursing and Physical Therapy
Presenter: Karen Gordes, PhD, PT, DSc, Graduate School
Team members: Linda Horn, PT, DScPT, MHS, GCS, NCS, and Norman Retener, MD, FACP, UMSOM; Mei Ching Lee, PhD, MS, RN, CHPN, UMSON
This initiative aimed to integrate the knowledge and skill sets of UMB nursing, medical, and physical therapy students within a clinical setting involving direct patient care. Incorporating patients in the training sessions allowed faculty to demonstrate the benefits of team-based care to patients as well as expand student IPE experience from the classroom to a clinical setting. Students learned how to complement each other's skills to better address the rehabilitation needs of patients within a complex medical environment.