Resnick Honored with Distinguished University Professor Appointment
June 8, 2022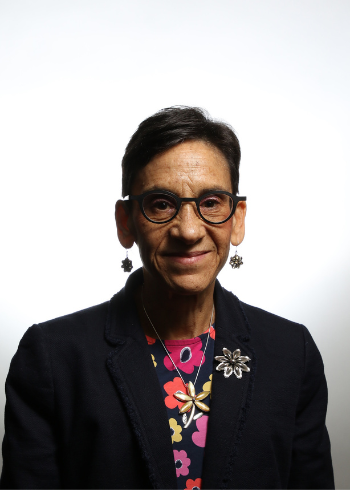 Baltimore, Md. - The University of Maryland, Baltimore (UMB) recognized Barbara Resnick, PhD '96, RN, CRNP, FAAN, FAANP, University of Maryland School of Nursing professor; Sonya Ziporkin Gershowitz Chair in Gerontology; and co-director, Biology and Behavior Across the Lifespan Organized Research Center, with the designation of Distinguished University Professor in May 2022. She is one of seven UMB faculty members recognized this year.
The title of Distinguished University Professor is the highest appointment bestowed on a faculty member at UMB. It is a recognition not just of excellence, but also of impact and significant contribution to the nominee's field, knowledge, profession, and/or practice. Those recognized with the title have been recognized nationally and internationally for the importance of their scholarly achievements; have a demonstrated breadth of interest through their excellence in teaching, scholarship, and service; and have brought distinction to UMB as a result of those activities.
"Dr. Resnick's contributions to the multiple missions of the University are substantive and ongoing," said Jane M. Kirschling, PhD, RN, FAAN, the Bill and Joanne Conway Dean of the University of Maryland School of Nursing. "She is a prolific and highly regarded researcher, whose innovative work has been continually funded by the National Institutes of Health and others, broadly disseminated, and has influenced practice and policy. Through her research and scholarship, teaching and mentoring, and service, she has brought national and international recognition and true distinction to the University."
Resnick, who joined UMB in the University of Maryland School of Medicine's Department of Family Medicine in 1988 before transferring to UMSON in 1996, developed and directed the School's master's-level geriatric nurse practitioner program from 1991 - 2008 and its successor Doctor of Nursing Practice Adult-Gerontology Primary Care Nurse Practitioner specialty until 2019. She continues to teach and mentor students. She also maintains an active practice as a certified gerontological nurse practitioner.
Resnick is nationally and internationally recognized for her research and scholarship, which focuses on the care of older adults with regard to optimizing health, function, and physical activity; exploring the impact of resilience and genetics on function and physical activity; and testing dissemination and implementation of interventions in real-world settings, including nursing home and assisted living facilities. Her research is of tremendous significance nationally and internationally because the interventions she has developed prevent functional decline, improve quality of life, and substantially lower the costs of care for vulnerable older adults. More recently, she has extended her work to assess the potential impact of function-focused care on individuals with Alzheimer's disease and related dementias.
This research has been consistently funded, including by the National Institute on Aging, the National Institute for Nursing Research, the Agency for Healthcare Research and Quality, the Robert Wood Johnson Foundation, the John A. Hartford Foundation, and the Leonard and Helen R. Stulman Foundation, among others. She is currently the principal investigator or multiple principal investigator (MPI) on three RO1 grants from the National Institutes of Health and an RO1 supplement. She is an MPI on a P30 grant from the National Institute on Nursing Research.
Resnick's research findings have guided revision of the Centers for Medicare and Medicaid Services (CMS) quality indicators related to activities of daily living and changes in resident function. She regularly heads Technical Expert Panels and advisory groups that set the standards for practice. She recently served on the CMS Expert Review Panel for the Comprehensive Care for Joint Replacement Review Group and is a member of the CMS Medication Therapy Management Program Standardized Format Expert Panel on Reduction in Antipsychotic Use.
Resnick has disseminated her work widely and has a significant record of publications, with more than 380 refereed publications in high-impact nursing, medical, and interdisciplinary journals relevant to geriatrics and behavior change. She has also authored more than 55 book chapters in nursing and medical textbooks and has served as editor or co-editor of 11 books. She has more than 200 refereed presentations at scholarly meetings and numerous invited presentations.
Her mentorship of others is unwavering and impressive and was recognized in 2015 with her receipt of the University of Maryland Board of Regents Award for Mentoring. She has actively supported numerous PhD students in nursing, social work, and gerontology who secured funding for their dissertation research, with a total of 25 funded mentees. She has served on 48 PhD dissertation committees.
She has also served as the editor of Geriatric Nursing since 2005 and the associate editor of the Journal of the American Geriatrics Society since 2016. She has also served in successive leadership roles for the foremost national organizations focused on gerontology, including as president of the American Geriatrics Society, for which she was the first nurse to lead the organization, and as president of the Gerontological Society of America.
She has been recognized by her peers with numerous prestigious national awards that underscore the significance of her work. Most recently, she received the 2021 William Dodd Founder's Award from the AMDA-Society for Post-Acute and Long-Term Care; she was the first non-physician to be recognized with the award. Also in 2021, she was recognized by the Friends of the National Institute for Nursing Research with its most significant honor, the Ada Sue Hinshaw Award, given to an individual "with a sustained and substantive program of science that would afford her/him recognition as a prominent senior scientist." Resnick has been further recognized by her peers through her induction as a Fellow of the American Academy of Nursing, a Fellow of the American Academy of Nurse Practitioners, and a Fellow in the Gerontological Society of America. She was internationally recognized with her 2015 induction into the International Nurse Researcher Hall of Fame by Sigma, the international honor society of nursing.
# # #
The University of Maryland School of Nursing, founded in 1889, is one of the oldest and largest nursing schools in the nation and is ranked among the top nursing schools nationwide. Enrolling nearly 2,100 students in its baccalaureate, master's, and doctoral programs, the School develops leaders who shape the profession of nursing and impact the health care environment.