Nahm Receives 2022 Southern Nursing Research Society D. Jean Wood Nursing Scholarship Award
April 19, 2023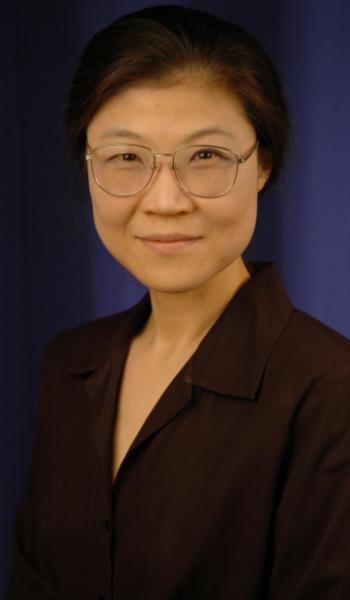 Baltimore, Md. – Eun-Shim Nahm, PhD '03, RN, FAAN, FGSA, professor and associate dean for the PhD program at the University of Maryland School of Nursing (UMSON), has been awarded the 2022 Southern Nursing Research Society (SNRS) D. Jean Wood Nursing Scholarship Award. This award recognizes the contributions of a researcher who has enhanced the science and practice of nursing. The society represents 14 states, including Maryland.
Nahm began her nursing career 30 years ago in oncology and has expanded her research foci to gerontology and health care informatics. She has received multiple funding awards from the National Institutes of Health and the Agency for Healthcare Research and Quality. Her current research focuses on the use of digital heath interventions to engage older patients, caregivers, and community-dwelling older adults in their care and to promote the management of chronic conditions.
She has developed and successfully implemented multiple online health behavior interventions for adults aged 50 and older and is currently leading online cancer survivorship studies as part of an academic-practice collaboration with clinicians at the University of Maryland Marlene and Stewart Greenebaum Comprehensive Cancer Center. She is also leading a five-year implementation grant project, "Care Coordination Education-to-Practice Scale-Up Implementation," through the Nurse Support Program II, funded by the Maryland Health Services Cost Review Commission and administered by the Maryland Higher Education Commission.
Nahm has published more than 75 peer-reviewed journal articles and five book chapters and has delivered presentations regionally, nationally, and internationally including, most recently, at the 2023 SNRS annual conference, held in March in Orlando, Florida.
This presentation, "Real-World Data for Interdisciplinary Healthcare Research: A Case Example and Lessons Learned," is based on findings from the "Care Coordination Education-to-Practice Scale-Up Implementation" project and reviewed the work of Nahm and co-authors Shijun Zhu, PhD, DrE, professor, UMSON; Kristin L. Seidl, PhD, RN, assistant professor, UMSON; Lynn Chen, PhD, assistant professor and director of evaluation, UMSON; Jenni Day, PhD, RN, director of nursing inquiry, University of Maryland Medical Center; and Hohyun Seong, MSN, RN, UMSON PhD student. The group's work examined the impact of continuing nursing education in care coordination on specific patient outcomes, including 30-day readmissions, patient satisfaction, and discharge planning.
Real-world data (RWD) relates to patient health status and/or care delivery and is collected from sources including electronic health records (EHRs) and health surveys. Combined, these datasets provide a more complete picture of a person's health and improve population health. Although nurses are leaders in using RWD in practice, RWD in nursing research has been limited. Nahm and team showed how, while the use of RWD has the potential for advancing health care research, researchers must recognize its limitations and establish mechanisms to minimize them. Nurse researchers can lead in this area, as they have innate understanding of such data and data sources.
"Dr. Nahm's award highlights the importance of the work she and her colleagues are doing to leverage health information systems to improve health care," said Erika Friedmann, PhD, professor and associate dean for research. "It illuminates the importance of using real-world perspectives to inform education and practice. She champions the use of nursing informatics to improve health care from the perspectives of patients, practitioners, and researchers. This study puts her at the forefront, helping researchers use electronic-based technologies to access data from multiple sources and address questions critical to understanding how to optimize health care."
In addition to conducting research, Nahm reviews grant study sections and journals, teaches graduate-level nursing informatics courses and doctoral-level research courses, and mentors graduate and doctoral students and junior faculty members. Since joining UMSON in 2003, Nahm has served as a tenured professor in the Department of Organizational Systems and Adult Health and was the director of the Master of Science in Nursing's Nursing Informatics specialty until she was appointed associate dean for the PhD program in 2022.
Nahm earned her PhD from UMSON, focusing on nursing informatics; a Master of Science in Nursing from the University of Hawaii; and a Bachelor of Science in Nursing from Ewha Womans University in Seoul, Korea. She is a member of the Southern Nursing Research Society, the American Academy of Nursing, the American Medical Informatics Association, and the American Nursing Informatics Association. She is also a member of the Alliance for Nursing Informatics Policy Committee.
###
The University of Maryland School of Nursing, founded in 1889, is one of the oldest and largest nursing schools in the nation and is ranked among the top nursing schools nationwide. Enrolling nearly 2,100 students in its baccalaureate, master's, and doctoral programs, the School develops leaders who shape the profession of nursing and impact the health care environment.