Maryland Nurses Focus on Optimizing the Workforce
June 16, 2022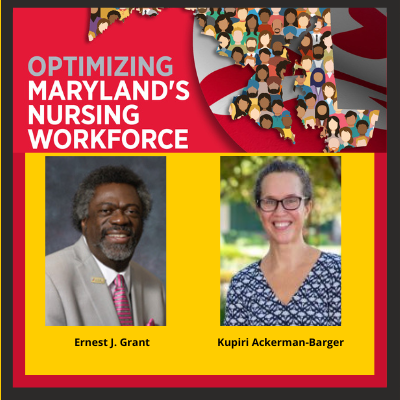 While nursing workforce issues nationwide, and especially in Maryland with its high density of health care organizations, have existed since long before 2020, the COVID-19 pandemic amplified the challenges, and demand for nurses has reached a fever pitch as the United States scrambles to fill vacancies. The 2022 Maryland Action Coalition (MDAC) Virtual Leadership Summit, hosted by the University of Maryland School of Nursing (UMSON) on May 23, took a deep dive into workforce challenges and opportunities with its theme "Optimizing Maryland's Nursing Workforce."
The content, offered through a full day of live virtual programming to about 150 attendees, focused on cultivating a diverse and skilled workforce, preparing nursing students to meet future health care needs, and exploring strategies for retention. Special emphasis was placed on the importance of addressing the social determinants of health, a key concept undergirding the National Academy of Medicine's The Future of Nursing 2020-2030: Charting a Path to Achieve Health Equity, a report that outlines a goal of achieving health equity in the United States over the next decade, based on strengthened nursing capacity and expertise.
It builds on the foundation set by the 2010 report The Future of Nursing: Leading Change, Advancing Health. MDAC was formed in 2011 in response to that report and serves as the driving force transforming health care through nursing in the state. Recognizing the important work already underway in Maryland and with a goal of long-term sustainable change, the coalition leads the way to improve the health of the population.
"Some of the key themes of The Future of Nursing 2020-2030 report include the need to address social determinants of health, reduce health disparities, and address inequities in our health system," Jane M. Kirschling, PhD, RN, FAAN, the Bill and Joanne Conway Dean of the University of Maryland School of Nursing, said in her opening remarks. Kirschling serves as co-chair of MDAC with Patricia Travis, PhD, RN, CCRP, senior associate director of clinical trials at Johns Hopkins Medicine.
"These are not new challenges but were certainly brought into sharper focus as a result of the disparate impact of the COVID-19 pandemic on selected populations," Kirschling added. "Another outcome of the pandemic has been the significant toll it's taken on nurses and other health care providers throughout the country, particularly the level of moral distress and burnout experienced by nurses on the front lines of care delivery."