Library, Nursing Students Partner in Public Health Outreach
October 26, 2023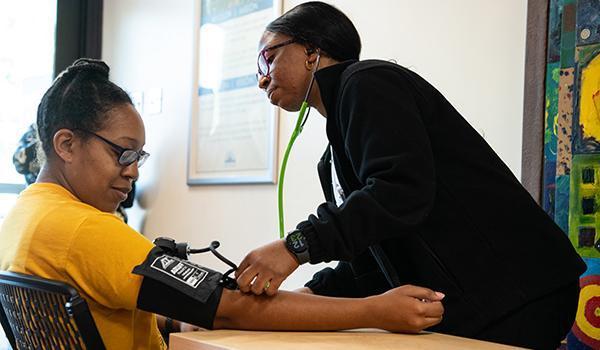 Over decades, libraries have grown from spaces solely to check out books into community hubs. They offer job resources, access to computers, educational opportunities, and more.
Nationwide, there are an estimated 17,000 public libraries receiving four million visits daily, according to a study published in the Journal of Community Health.
And now, in Maryland, some libraries are capitalizing on that community trust to help address health disparities.
A newly created partnership between the University of Maryland School of Nursing (UMSON) and the Prince George's County Memorial Library System (PGCMLS) will provide much-needed health resources to the community while providing a critical clinical experience for nursing students.
The initiative — Talk Health with the University of Maryland School of Nursing — places entry Bachelor of Science in Nursing (BSN) students from UMSON at the Universities at Shady Grove in the PGCMLS Greenbelt Branch Library on Mondays this fall.
The collaboration between UMSON and the library system expands work that began last year. Last spring, UMSON BSN students were placed in multiple branches of the Enoch Pratt Free Library throughout Baltimore in a partnership that was the first of its kind in Maryland.
For BSN student Bukola Oladipuo, working directly with community members is extremely fulfilling, especially when it comes to educating them about the importance of managing their health.
"A lot of people — after checking them, we realize that they didn't take their blood pressure medication that morning," Oladipuo said. "Letting them know how important it is to be compliant with the medication regimen — it's something rewarding for me."