Joan Carpenter Accepted to Betty Irene Moore Fellowship for Nurse Leaders and Innovators Program
May 17, 2022
Carpenter awarded $450,000 to study telehealth palliative care for people living with dementia in nursing homes and their care partners.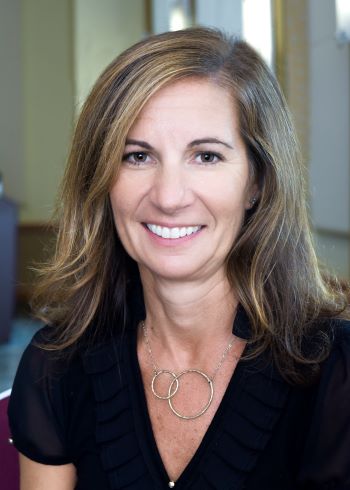 Baltimore, Md. – The University of Maryland School of Nursing's (UMSON) Joan Carpenter, PhD, CRNP, ACHPN, FPCN, assistant professor, is one of 12 nurse scientists accepted to the third cohort of the Betty Irene Moore Fellowship for Nurse Leaders and Innovators. This fellowship program, funded by a $37.5 million grant from the Gordon and Betty Moore Foundation, recognizes early- to mid-career nursing scholars and innovators with a high potential to accelerate leadership in nursing research, practice, education, policy, and entrepreneurship.
Betty Irene Moore Fellows develop skills and confidence in leadership and innovation improving health care delivery and advancing health. As part of the three-year fellowship program, fellows receive $450,000 to conduct an innovative project or study with the potential to address a gap in knowledge, meet a vital need, alter care delivery, or design a new solution to advance health. Carpenter's project, "Improving Access to Dementia Palliative Care in Nursing Homes" focuses testing an evidence-based palliative care intervention delivered by nurse practitioners using telehealth in a pragmatic clinical trial. Throughout the project period, from July 1, 2022 - June 30, 2025, Carpenter will gain advanced skills in leveraging opportunities for change to influence health policy and reimbursement guidelines. Her overarching goal is to combine strategically clinical practice, research, and policy interests to discover and implement novel strategies to expand access to palliative care for vulnerable older adults.
Selected fellows must demonstrate leadership aspirations and the potential to bring innovation to the leadership journey; a well-developed, big-picture vision for an important health or health care issue with a compelling description of how they aspire to address this issue through the proposed project; and evidence of strong support from both the mentor and the home institution.
"We congratulate Dr. Carpenter on the significant honor of her acceptance into the Betty Irene Moore Fellowship program. I know that she will benefit greatly from her participation and that it will further her development as a geriatric and palliative care scientist, leader, and innovator," said Jane Kirschling, PhD, RN, FAAN, the Bill and Joanne Conway Dean of the University of Maryland School of Nursing. "Dr. Carpenter's extensive experience as a nurse practitioner in both geriatric and hospice/palliative care settings will allow her to address clinically informed research questions that are innovative, relevant, and highly significant with regard to advancing the delivery of high-quality palliative care that enhances patient and family caregiver outcomes. We are truly grateful for the support of the Gordon and Betty Moore Foundation and the ongoing impact of the fellowship program on the development of the next generation of nurse scholars and leaders."
The fellowship program also features a hybrid online and classroom curriculum designed and taught in partnership with the UC Davis Graduate School of Management to enhance leadership and innovation capacity, strengthen strategic thinking and collaborative skills, expand professional networks, develop entrepreneurial skills, and propel innovative ideas to fruition. A mentor selected by the fellow and an additional mentor provided by the national program office round out the educational experience.
The Gordon and Betty Moore Foundation seeks to prepare nurses as collaborative leaders with the skills and confidence to inspire others, enact change, and challenge the status quo. With the creation of the Betty Irene Moore Fellowship for Nurse Leaders and Innovators, the foundation supports nurse leaders who take ideas to scale that advance high-quality, high-value care and optimal health outcomes.
# # #
The University of Maryland School of Nursing, founded in 1889, is one of the oldest and largest nursing schools in the nation and is ranked among the top nursing schools nationwide. Enrolling more than 2,100 students in its baccalaureate, master's, and doctoral programs, the School develops leaders who shape the profession of nursing and impact the health care environment.