Galik Appointed Chair of Department Organizational Systems and Adult Health at the University of Maryland School of Nursing
June 30, 2021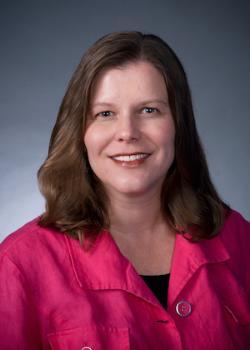 Baltimore, Md. – Elizabeth Galik, PhD '07, CRNP, FAAN, FAANP, professor, has been appointed the chair of the University of Maryland School of Nursing's (UMSON) Department of Organizational Systems and Adult Health. She succeeds Kathleen Michael, PhD, RN, CRRN, associate professor, who retired in March, after five years as chair and almost 20 years of service to the School of Nursing and the University of Maryland, Baltimore.
In her role as chair, Galik is responsible for promoting the achievement of academic, research and scholarship, service, and practice initiatives throughout the department. This includes hiring and developing faculty and staff and mentoring, advocating, and fostering their ongoing success.
"I have been fortunate to serve as a faculty member in the Department of Organization Systems and Adult Health throughout my academic career and have learned about leadership and management from Dr. Michael and other department chairs," Galik says. "I look forward to providing mentorship, guidance, and support to the faculty and staff as they work to enact the strategic initiatives of the school and facilitating their professional growth."
Galik joined UMSON as a clinical instructor in 2006 and was promoted to assistant professor in 2007 and then to associate professor with tenure in 2013. She attained the rank of professor with tenure in 2018. She teaches in the Doctor of Nursing Practice Adult-Gerontological Primary Care Nurse Practitioner specialty and conducts research designed to optimize function and physical activity and to effectively manage behavioral symptoms among older adults with dementia. Galik has been recognized with numerous awards and honors. She is a fellow of the American Academy of Nurse Practitioners (FAANP), the American Academy of Nursing (FAAN), and the Gerontological Society of America (FGSA).
"We congratulate Dr. Galik on her appointment as chair of the department," said Jane Kirschling, PhD, RN, FAAN, the Bill and Joanne Conway Dean of the University of Maryland School of Nursing. "She brings extensive experience as a faculty member, having taught undergraduate, master's, and doctoral students, and having served as an advisor and dissertation chair for PhD students. Her externally funded research has resulted in more than 100 manuscripts and 30 book chapters, as well as over 175 refereed and invited presentations for nursing and interdisciplinary audiences. The breadth and depth of her teaching, scholarship, and practice has prepared her extremely well for this new role. I am confident that she will build on the legacy of Dr. Michael's leadership, support the ongoing contributions of the department, and foster its continued growth and development."
Galik holds a PhD from UMSON, a Master of Science in Nursing from Villanova University, and a Bachelor of Science in Nursing from the University of Pennsylvania. In addition to her role as professor and chair, Galik is a certified adult nurse practitioner specializing in the medical and neuropsychiatric care of older adults with dementia. Through a clinical practice with the Sheppard Pratt health system, she provides patient care to older adults and their caregivers in long-term care communities. Galik has also developed a house call practice for dementia symptom management.
# # #
The University of Maryland School of Nursing, founded in 1889, is one of the oldest and largest nursing schools in the nation and is ranked among the top nursing schools nationwide. Enrolling nearly 2,100 students in its baccalaureate, master's, and doctoral programs, the School develops leaders who shape the profession of nursing and impact the health care environment.