DAISY Awards Presented to Extraordinary Faculty and Students During the University of Maryland School of Nursing's Virtual Degree Conferral
January 7, 2021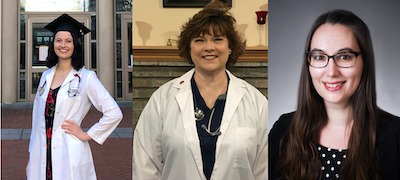 Baltimore, Md. – During the University of Maryland School of Nursing's (UMSON) virtual December 2020 degree conferral ceremony on Thursday, Dec. 17, which recognized summer and fall 2020 UMSON graduates, DAISY Awards for Extraordinary Nursing Students were presented to Katherine Couch, (left) a graduate of the Master of Science in Nursing Clinical Nurse Leader option, and Lisa Eng, (middle) a graduate of the Bachelor of Science in Nursing program at the Universities at Shady Grove location. And the DAISY Award for Extraordinary Nursing Faculty was presented to Amanda Roesch, (right) DNP, MPH, FNP-C, assistant professor, marking only the second time that UMSON has bestowed the award.
The DAISY Awards for Extraordinary Nursing Students are presented at each UMSON Convocation in May and each UMSON Graduation in December to two graduating entry-into-practice students who demonstrate empathic care and service to patients and their families. The award was created by The DAISY Foundation to remind students, even during their hardest days in nursing school, why they chose to become a nurse. By recognizing nursing students for their care and compassion for patients and their families, The DAISY Foundation acknowledges and celebrates what it means to be a nurse. Eligible nursing students can be nominated by a fellow student or a faculty or staff member from the UMSON community.
During the degree conferral, Dean Jane M. Kirschling, PhD, RN, FAAN, said Couch was nominated for treating everyone she encounters with the same level of deep respect and for not being afraid to speak up or to question something that does not seem quite right. Kirschling said Eng was nominated for always going above and beyond her assigned duties to learn about her patients and for her commitment to connecting with them and caring for them as individuals.
"Thank you, Katherine and Lisa, for demonstrating your commitment to providing outstanding and compassionate care. I know that you will continue to do so over the course of your nursing careers," Kirschling said.
The DAISY Award for Extraordinary Nursing Faculty was created by The DAISY Foundation to recognize and celebrate the contributions that faculty members make to the future of nursing. The award honors those who inspire their students to remember that nursing is much more than tasks and technology. These faculty members help ensure that the art as well as the science of nursing are brought to every patient experience. Nominations are accepted from students, fellow faculty members, and community leaders.
Roesch, the 2020 faculty award recipient, was nominated by Veronica Quattrini, DNP, FNP-BC, assistant professor and senior director of the Doctor of Nursing Practice program, and is described as passionate about educating the next generation of UMSON advanced practice nurses to provide compassionate care to diverse populations. She weaves her experiences caring for underserved populations both locally and internationally into her teaching strategies. She challenges students to broaden their perspectives with her curricular design. As an ally for the LGBTQ+ community, she is committed to ensuring her students have the knowledge and skills to provide affirming, inclusive care to this population, and she incorporates this in the courses she teaches. Roesch has also collaborated with a community/public health nursing initiative to provide physical exams to children enrolled in Head Start programs. This affords her the opportunity not only to teach Family Nurse Practitioner students to care for the pediatric population, but also to provide culturally sensitive care to a diverse population.
Students describe her as knowledgeable, dedicated, hardworking, and passionate and characterize her teaching style as creative, unique, interactive, and fun. As one student stated, "Dr. Roesch is a true asset to the entire school." As a colleague, Roesch elevates the bar as a team player. She is always willing to assist at any level to improve curriculum and has developed many case studies, objective structured clinical examination encounters, redesign of rubrics and exams, and, perhaps her most significant contribution, the episodic tool designed for Advanced Health Assessment.
"I am delighted to present Dr. Roesch with this award," Kirschling said during the degree conferral. "We are very grateful to have her as a member of our faculty."
An acronym for Diseases Attacking the Immune SYstem, The DAISY Foundation was founded in November 1999 by the family of J. Patrick Barnes, who died at age 33 of complications of Idiopathic Thrombocytopenic Purpura. The nursing care Patrick received when hospitalized profoundly touched his family. The foundation expresses gratitude to nurses with programs that recognize them for the extraordinary skillful, compassionate care they provide patients and families.
# # #
The University of Maryland School of Nursing, founded in 1889, is one of the oldest and largest nursing schools in the nation and is ranked among the top nursing schools nationwide. Enrolling nearly 2,100 students in its baccalaureate, master's, and doctoral programs, the School develops leaders who shape the profession of nursing and impact the health care environment.