Costa Named Fellow of American Academy of Nursing
November 23, 2021
Five alumni join Costa in the cohort of AAN distinguished nurse leaders.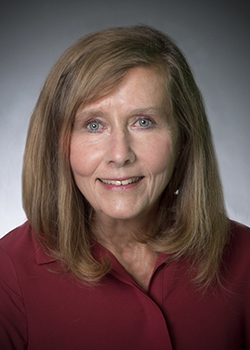 Baltimore, Md. – The University of Maryland School of Nursing (UMSON) proudly announces that Linda L. Costa, PhD, BSN '76, RN, NEA-BC, FAAN, associate professor, and five UMSON alumni have been selected as 2021 Fellows of the American Academy of Nursing (AAN). They are among the 225 distinguished nurse leaders who compose this year's cohort, and they were recognized for their contributions to health and health care at the academy's annual Health Policy Conference, October 7 - 9, offered in a hybrid format.
The UMSON alumni are:
Diane M. Breckenridge, PhD '96, MSN, RN, ANEF, FAAN
Virginia LeBaron, PhD, MS '02, APRN, FAANP, FAAN
Rebecca (Suzie) Miltner, PhD '01, RN, CNL, NEA-BC, FAAN
Laura J. Wood, DNP, MS '83, RN, NEA-BC, FAAN
Mei-Ling Yeh, PhD '97, MS '93, DMS, FAAN
Criteria for selection as an AAN Fellow includes evidence of significant contributions to nursing and health care and sponsorship by two current AAN Fellows. Applicants are reviewed by a panel of elected and appointed fellows, and selection is based, in part, on the extent the nominee's nursing career has influenced health policies and the health and well-being of all.
At UMSON, Costa teaches in the Master of Science in Nursing Health Services Leadership and Management specialty and in the Doctor of Nursing Practice (DNP) program with a focus on translation of evidence to practice, innovation in health care, and DNP project advisement. She is co-director the School's Nurse Leadership Institute, funded by a Maryland Higher Education Commission Nurse Support Program II grant. For the last six years, she has served as a member of the Maryland Health Services Cost Review Commission Performance Measurement workgroup. She is a health services researcher with funded research studies on hospital discharge transitions, medication reconciliation, and implementation science. She has lectured nationally and internationally on leadership and evidence-based practice. She received her Bachelor of Science in Nursing from UMSON and her Master of Science in Nursing and PhD from The Catholic University of America.
"We congratulate Dr. Costa on the honor of being named a Fellow of the American Academy of Nursing," said Jane Kirschling, PhD, RN, FAAN, the Bill and Joanne Conway Dean of the School of Nursing. "It is a tribute to her dedication and commitment to evidence-based practice and its significant role in advancing the practice of nursing. We also congratulate our five distinguished alumni for being nationally recognized for their leadership and many contributions to nursing research, education, and practice."
The new AAN Fellows represent 38 states; Washington, D.C.; and 17 countries. Fellows now comprise more than 2,900 nursing leaders who are experts in policy, research, administration, practice, and academia and who champion health and wellness, locally and globally.
# # #
The University of Maryland School of Nursing, founded in 1889, is one of the oldest and largest nursing schools in the nation and is ranked among the top nursing schools nationwide. Enrolling more than 2,100 students in its baccalaureate, master's, and doctoral programs, the School develops leaders who shape the profession of nursing and impact the health care environment.