Class of December 2022 Encouraged to Step Outside of Comfort Zone
December 20, 2022
UMSON hosts Graduation ceremony for Baltimore, Universities at Shady Grove grads.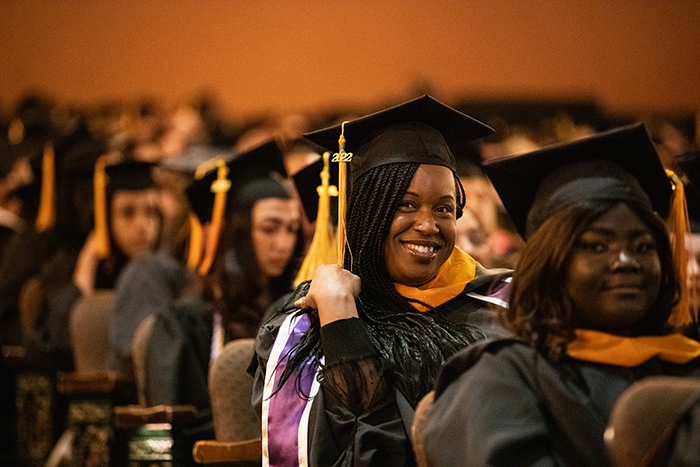 Baltimore, Md. – On Dec. 19, the University of Maryland School of Nursing hosted a graduation ceremony at Baltimore's historic Hippodrome Theatre honoring summer and fall 2022 graduates from its Baltimore and Universities at Shady Grove locations.
"It's so wonderful to see a full house here," University of Maryland, Baltimore President Bruce E. Jarrell, MD, FACS, remarked before he officially conferred degrees during the ceremony. In all, Jarrell conferred 303 degrees and certificates, including 194 Bachelor of Science in Nursing (BSN) degrees, 99 master's degrees (including entry-into-practice Clinical Nurse Leader [CNL]), two Doctor of Nursing Practice (DNP) degrees, two PhD degrees, and six certificates.
Jarrell also recognized the many contributions made by Jane Kirschling, PhD, RN, FAAN, the Bill and Joanne Conway Dean, who has announced her retirement at the end of the academic year.
"She has been a great scholar. She has built a great school. She was fabulous, exceptional during the time of COVID," Jarrell said. "It has been my great pleasure to work with her side by side through these many years. Dean Kirschling, thank you for all that you have done." Kirschling received a standing ovation from the platform party joining her onstage.
"This is always an exciting time for us, as educators, when we celebrate the milestones reached by our students and revel in their successes, because their success is our success as well," Kirschling said as she welcomed attendees. "It is a time for us to reflect on our essential purpose – to foster the development of human potential that lies within each of us, to enrich our lives and enable us to contribute to improving the lives of others, in particular, through our nursing careers."
Suzanne Miyamoto, PhD, RN, FAAN, chief executive officer, American Academy of Nursing, served as the keynote speaker.
"Nursing students, I sat where you were 20 years ago, filled with joy, excited to be finally graduating," she said. "But the feelings of anxiety were strong. You could describe it as an undercurrent as I prepared to leave the comforts of nursing school."
She encouraged graduates to remember that growth lies outside one's comfort zone.
"I assure you that you will find competence in your new role as a nurse, it will take time. But as soon as you feel it, I implore you to find a way to come back to a place of discomfort," she said. "I ask this for one very important reason: the health and wellness of the public depends on it."
"You are a nurse. Your power will be immeasurable. Your presence will be extraordinary. Challenge your comfort and channel your boldness. Today marks one milestone. The success of what lies ahead is built on your strength and determination."
During the ceremony, DAISY Awards for Extraordinary Nursing Students were presented to Jillian Hoelter, a graduate of the BSN program, and Kaitlyn Elizabeth Cole, a graduate of the Master of Science in Nursing CNL option. DAISY Awards are given each fall and spring to two graduating entry-into-nursing graduates who demonstrate empathetic care and service to patients and their families. The award was created by The DAISY Foundation to remind students, even during their hardest days in nursing school, why they chose to become a nurse.
The DAISY Award for Extraordinary Nursing Faculty was presented to Veronica "Ronnie" Quattrini, DNP, MS '99, BSN '85, FNP-BC, assistant professor and senior director of the DNP program. The DAISY Award for Extraordinary Nursing Faculty was created by The DAISY Foundation to recognize and celebrate the contributions that faculty members make to the future of nursing.
Preceptor Awards, given to preceptors who have facilitated a transformational experience for students with whom they have worked in the clinical setting, were presented at the graduate level to Beth Holderness, CRNP, who works at the University of Maryland St. Joseph Medical Center, and at the undergraduate level to Rebecca Meyerson, MS '20, RN, CNL, who works at the University of Maryland Medical Center in Psychiatric Emergency Services.
Student speaker Oluwatoyin Azeezat Oladigbolu, a graduating BSN student, likened her academic journey to a rollercoaster ride that takes one through loops, bends, and steep hills that feel never ending in the moment.
"During the ride, some of us laughed, some of us cried … correction, many of us cried, some of us closed our eyes and held on for dear life praying for the ride to be over," she said. "Seeing you all here before me today, we all got off the roller coaster safe and sound! One thing I need each and every one of you to do today as you cross this stage is give yourself credit for buckling your seatbelts and committing to a lifetime of nursing. Keep buckling your seatbelts, because I promise you, the ride is always worth it."
###
The University of Maryland School of Nursing, founded in 1889, is one of the oldest and largest nursing schools in the nation and is ranked among the top nursing schools nationwide. Enrolling nearly 2,100 students in its baccalaureate, master's, and doctoral programs, the School develops leaders who shape the profession of nursing and impact the health care environment.