Assistant Professor Selected for National League for Nursing Leadership Program
July 10, 2023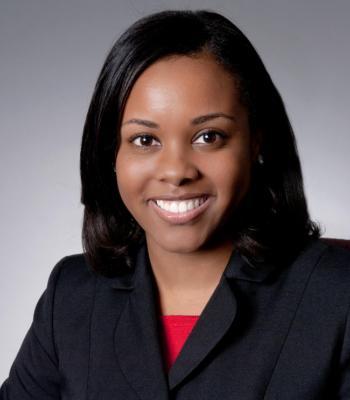 Baltimore, Md. – Nicole E. Smith, PhD, MS '14, RN, CNE, CHSE, CNE-cl, assistant professor, was selected to participate in the 2023 National League for Nursing (NLN) LEAD program. Part of the NLN Leadership Institute, the program is designed for nurses in education and practice who have recently been challenged with rapid transition into leadership positions, those in leadership positions who desire a formal leadership program, and those emerging and aspiring to lead. Smith is one of 25 nurse leaders nationwide selected to participate in the 2023 program.
During the yearlong hybrid program, participants partner with peers and experts to examine issues related to leadership concepts and organizational systems. The program guides participants in developing strong management and leadership skills, the art of negotiation and communication within groups, and how to develop teams that perform at a high level. Additionally, the program helps members create a three-year, focused career plan; examine key issues in organizational dynamics; and implement an individual plan for leadership development.
Participants are selected through a competitive application process. Participants identify personal and professional goals, learn about what makes an effective leader, and strategize how to re-tool skill sets and experiences to achieve individual and institutional benchmarks. To that end, everyone receives intensive one-on-one executive coaching in addition to attending online group coaching sessions, a retreat, and webinars, where they study leadership theory and development that includes case studies.
"It is an honor and a privilege to be selected to the 2023 NLN LEAD cohort," said Smith, who recently returned from attending the program's Intensive Leadership Retreat in Washington, D.C., June 25 - 28. "This intense yearlong opportunity is supporting my leadership development and has helped me cultivate a focused career trajectory. I am enriching and adding new leadership skills to my toolbox. As a result of this program, I will make a bigger impact in nursing education by applying new and improved leadership skills to support the organizations, students, and colleagues that I serve."
Following the leadership retreat, the group reconvenes at the 2023 NLN Education Summit, Extraordinary Nurse Educators, Leading Extraordinary Times, Sept. 28 - 30 at National Harbor near Washington, D.C.
NLN, composed of nurse educators, education agencies, health care agencies, and interested members of the public, is dedicated to excellence in nursing education. Its members are offered faculty development programs, networking opportunities, nursing research grants, testing and assessment, and public policy initiatives.
###
The University of Maryland School of Nursing, founded in 1889, is one of the oldest and largest nursing schools in the nation and is ranked among the top nursing schools nationwide. Enrolling nearly 2,100 students in its baccalaureate, master's, and doctoral programs, the School develops leaders who shape the profession of nursing and impact the health care environment.