Adejumo Named Fellow of International Academy of Addictions Nursing
February 15, 2023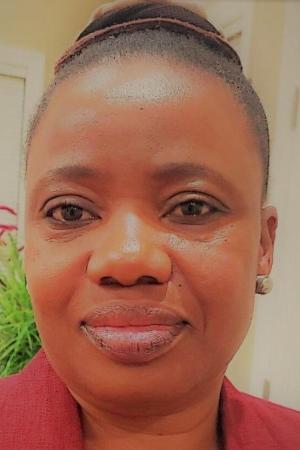 Baltimore, Md. – The University of Maryland School of Nursing's Oluremi Adejumo, DNP '19, RN, FIAAN, assistant professor, has been inducted as a 2022 Fellow of the International Academy of Addictions Nursing (FIAAN). She and six other addictions nurses received the FIAAN designation during the 45th Annual International Academy of Addictions Nursing (IntNSA) Annual Conference in October, bringing the total number of fellows to 36.
The honor recognizes their substantial contributions to addictions nursing, the FIAAN Leadership Assembly, and IntNSA in areas including teaching/learning innovation; faculty development; research; leadership; public policy related to addictions nursing; and collaborations in education, practice, administration, research, and community partnerships.
In her almost 30 years of nursing, Adejumo has led nursing and interprofessional teams in university, clinical, and social services settings, developing organizational and system improvements for prevention and management of individuals with substance use disorders and diabetes. She has worked with formerly homeless men, many with histories of alcohol and/or drug addiction and/or incarceration, including those participating in an UMSON-affiliated residential job training program with health promotion, health assessment, and care coordination. After conducting an organizational needs assessment and a review of the men's medical records, Adejumo implemented a diabetes prevention program (DPP) promoting health, social equity, and employment. She also developed a diabetes prevention model for the outpatient clinic of a large, urban Veterans Administration (VA) hospital in Baltimore, which adopted an integrated primary care DPP for this setting.
As a native of Nigeria, Adejumo has been traveling to her home country for more than 10 years, volunteering with nurses and building relationships to help move substance use treatment away from medical and psychiatric hospitals and into alcohol and drug treatment centers. Adejumo serves as an international member-at-large representative to the Board of Directors of the Association of Community Health Nurse Educators and is the international executive liaison officer for the Nigerian chapter of IntNSA, the first IntNSA country chapter on the African continent.
"Since earning my DNP degree, I have had excellent opportunities to work with collaborators committed to building hope and resilience. Now, I am honored to be selected as a Fellow of the International Academy of Addictions Nursing," Adejumo said. "As a Fellow, I will have countless opportunities to learn and grow and shape the future of addictions nursing, through ongoing collaboration with the FIAAN Leadership Assembly, IntNSA, and the other Fellows. I look forward to becoming an even stronger advocate of the prevention and treatment of addictions globally."
Adejumo's work around improving treatment of those with substance abuse and related addiction disorders is part of a larger UMSON commitment in this area. UMSON is the only nursing school in the nation with a post-bachelor's Substance Use and Addictions Nursing Certificate. The program was developed to prepare registered and advanced practice registered nurses for leadership roles in addictions nursing while giving them the skills to care for individuals, families, and communities affected by addiction. And, in 2019, UMSON faculty brought the annual IntNSA education conference to Baltimore at a time when Maryland's opioid-related overdose death rate was twice the national rate.
Adejumo joined the UMSON faculty in 2019 after earning her DNP, BSN, and Teaching in Nursing and Health Professions Certificate from UMSON. She holds a Master of Science in Emergency Health Services from the University of Maryland, Baltimore County and a bachelor's degree in chemistry from the University of Jos, Plateau State, Nigeria.
###
The University of Maryland School of Nursing, founded in 1889, is one of the oldest and largest nursing schools in the nation and is ranked among the top nursing schools nationwide. Enrolling nearly 2,100 students in its baccalaureate, master's, and doctoral programs, the School develops leaders who shape the profession of nursing and impact the health care environment.