Alumni Reunion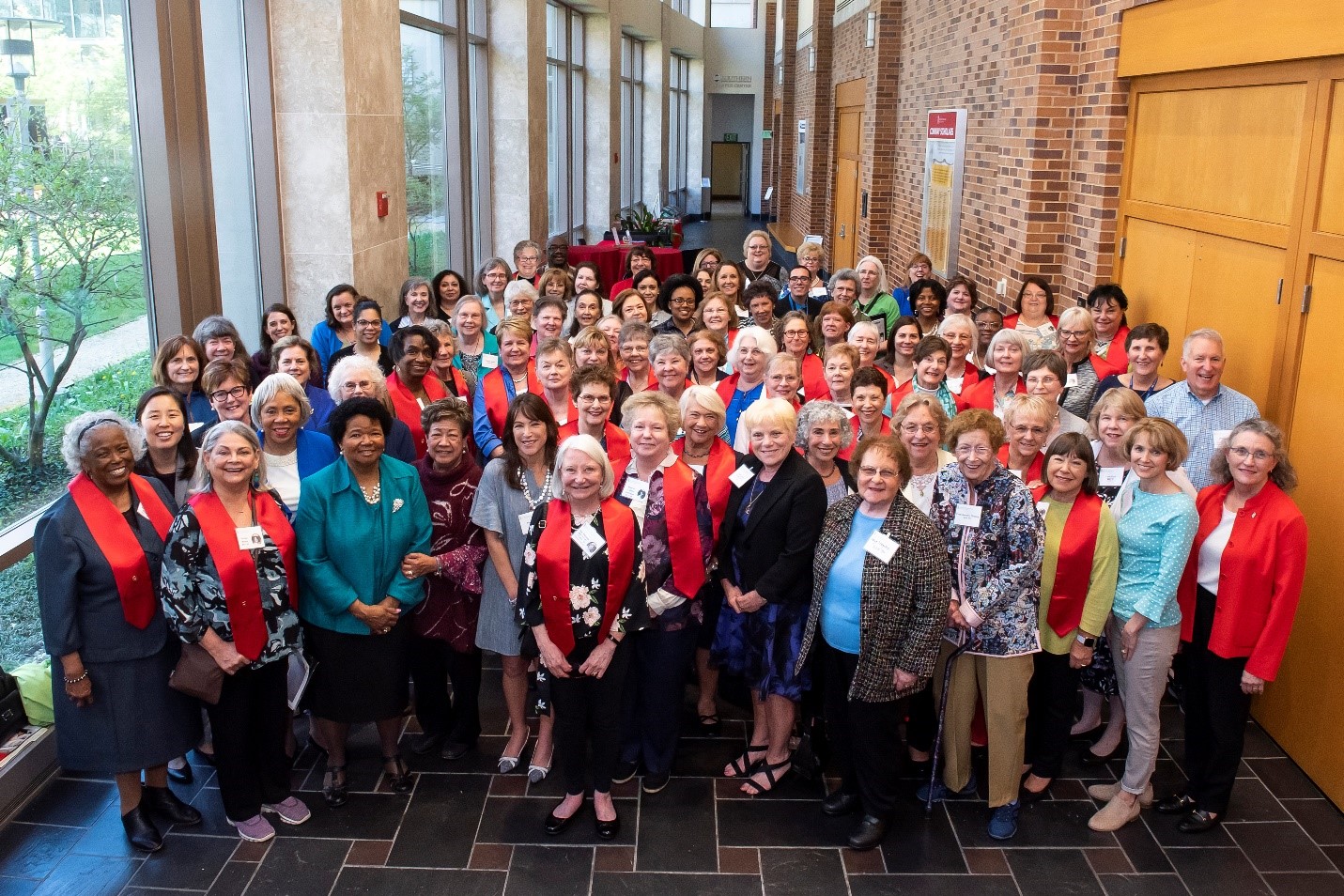 UMSON Virtual All-Alumni Reunion 2020
Sept. 12, 2020
This event has now concluded.
It was necessary to reschedule the All Alumni Reunion planned for the spring due to the coronavirus pandemic — so we decided to go virtual! All UMSON alumni were invited to come together online for a day filled with exciting presentations and discussions, and lots of UMSON spirit!
More Information
Time

Event

9 - 10 a.m.

Reunion Program

Watch a recording of the Reunion Program.

Dean Jane Kirshling's Highlights
Class of 1970 Heritage Class Induction
Distinguished Alumni Award Presentation to: Mary Etta C. Mills, ScD, MS '73, BSN '71, RN, NEA-BC, FAAN

10:15 - 11:15 a.m.

Continuing Education Session I:
Optimizing Function and Managing Behavioral Symptoms Among Individuals with Dementia

View CE Session I presentation slides.
View Galik's reference list.

Additional Web-Based Resources:

Speaker:

Elizabeth Galik, PhD '07, FAANP, FAAN
Professor, University of Maryland School of Nursing

Learning Objectives:

Describe functional and behavioral symptoms that are common among persons living with dementia.
Discuss effective interventions designed to optimize functional ability and decrease behavioral symptoms among individuals living with dementia.

Galik teaches in the Adult-Gerontology Primary Care Nurse Practitioner Program and conducts research to improve care practices for older adults with dementia and their caregivers in long-term care. She maintains a clinical practice as a nurse practitioner in long-term care and community-based settings with Sheppard Pratt Health System. She is the co-editor in chief of Caring for the Ages, a publication of the Society for Post-Acute and Long Term Care Medicine, and is a past president of the Gerontological Advanced Practice Nurses Association.

11:25 a.m. - 12:25 p.m.

Continuing Education Session II:
Building a Global Movement for Health: Nurse Leadership on Climate Change

Watch a recording of CE Session II.
View CE Session II presentation slides.

Learning Objectives:

Describe the impacts of climate change on human health and how the health sector contributes to pollution that worsens climate change.
Discuss strategies, initiatives, and case studies of nurses addressing climate change within their own practice, with a focus on nursing education, practice change, and advocacy.
Identify opportunities for nurses to engage in action and advocacy to advance climate solutions locally and nationally.

Panelists:

Cara Cook, MS '15, RN, AHN-BC
Climate & Health Program Manager, Alliance of Nurses for Healthy Environments

Cook's work focuses on elevating climate and health as a national priority by engaging nursing organizations and individual nurses in climate and health advocacy, education, and practice change. She has experience in critical care and public health nursing, and holds a Master's in Community/Public Health Nursing from UMSON

Katie Huffling, MS '06, RN, CNM, FAAN
Executive Director, Alliance of Nurses for Healthy Environments

Huffling is a Certified Nurse-Midwife and is the executive director of the Alliance of Nurses for Healthy Environments. She works with nurses and national nursing organizations on a variety of environmental health issues including climate change, chemical policy, inclusion of environmental health into nursing education, and sustainable health care. Huffling has written numerous peer-reviewed articles on environmental health issues and was an editor of the recently released environmental health e-textbook "Environmental Health in Nursing," which won the 2017 Book of the Year in Environmental Health from the American Journal of Nursing.

Justin Graves, MS '14, MBA, RN, CRMP
Director of Materials Management, Logistics & Sustainability, University of Maryland Medical Center (UMMC)

Graves oversees UMMC's sustainability program across both of its campuses in addition to supply chain responsibilities. UMMC was recognized by Practice Greenhealth in its 2014 Environmental Excellence Awards in the "Greening the OR" category. Graves currently serves on Vizient's Environmental Advisor Council and in 2015 received the Environmental Health in Nursing Award from Maryland Hospitals for a Healthy Environment. Graves is an alumnus of the dual MS/MBA program from UMSON.

Charlotte Wallace, MS '15, BSN '99, RN
Community Health Nurse and Sustainability Coordinator, Anne Arundel Medical Center

Wallace is a former pediatric nurse and champion for change, whose passion for health care, the environment, and children led her to initiate and chair the environmental health team at Anne Arundel Medical Center in Annapolis, Maryland, in 2007. In 2011, Anne Arundel Medical Center was recognized as the first acute care hospital in Maryland to achieve LEED certification, and in 2013 and 2015, it was recognized by the Becker's Review as one of the top 50 greenest hospitals in the U.S. In 2012, Charlotte was awarded the Nursing Leadership in Environmental Health Award by Maryland Hospitals for a Healthy Environment.

Moderator:

Robyn Gilden, PhD '10, MS '01, RN

12:35 - 1:35 p.m.

Continuing Education Session III:
The Digitization of Health Care: Opportunities for Nursing

Watch a recording of CE Session III.
View CE Session III presentation slides.

Referenced Materials:

Speaker:

Malinda Peeples, MS '97, CDCES, RN, FADCES
Senior Vice President, Clinical Services, Programs and Research, Welldoc, Inc.

In her role at Welldoc, Inc., Peeples integrates innovative digital health solutions to advance health outcomes for people with chronic disease and their care teams. She also serves as adjunct assistant professor in the Division of Healthcare Informatics at the Johns Hopkins School of Medicine. Peeples served as president of the American Association of Diabetes Educators from 2005 - 2006, where she advanced the strategic direction of the organization to incorporate behavior change as a key outcome of education practice and research. She received a master's degree in nursing informatics from UMSON in 1997, and has volunteered for UMSON's Alumni Speaker Series and the Student/Alumni Speed Networking events, as well as serving as a member-at-large on the Alumni Council for three years, for which she is currently President-Elect. In addition, she currently serves as a member of the University of Maryland Baltimore Foundation Board of Trustees.

1:45-2:30 p.m.

School of Nursing Virtual Tours

Watch recordings of the tours:

You can also look through our museum virtual tour online or view a PowerPoint slideshow.
Update Your Contact Information
To be sure you receive your invitation, update your contact information using the form below.
Become a Class Representative
Volunteering as a class representative is a wonderful way to reconnect with your classmates! If you would like to help on the reunion planning committee, contact Cynthia Sikorski at 410-706-0674 or sikorski@umaryland.edu.
Class of 1970 50th Anniversary Memory Book
The Class of 1970 Memory Book will be available to all classmates for a modest fee.
If you are a member of the UMSON Class of 1970 and would like to contribute your memories to the Class of 1970 Memory Book in connection with your 50th reunion, please complete the form below by Sept. 30, 2020.
Nurses may receive 1.5 contact hours for participating in this educational activity. Partial credit is not provided. Participants receive a CNE certificate via email from UMSON approximately two to four weeks after submitting their request, a signed attendance verification form, a completed evaluation form, plus a fee of $10. All requests must be received within 30 days of the conference.
Accreditation Statement: The University of Maryland School of Nursing is accredited as a provider of continuing nursing education by the American Nurses Credentialing Center's Commission on Accreditation.
Conflict of Interest: It is the policy of The University of Maryland School of Nursing to require our continuing education activity (CE) faculty and planning committee members to disclose any financial relationships with companies providing program funding or manufacturers of any commercial products discussed in the program. The planning committee and CE faculty report that they do not have financial relationships with manufacturers of any commercial products they discuss in the program.