Alumni Reunion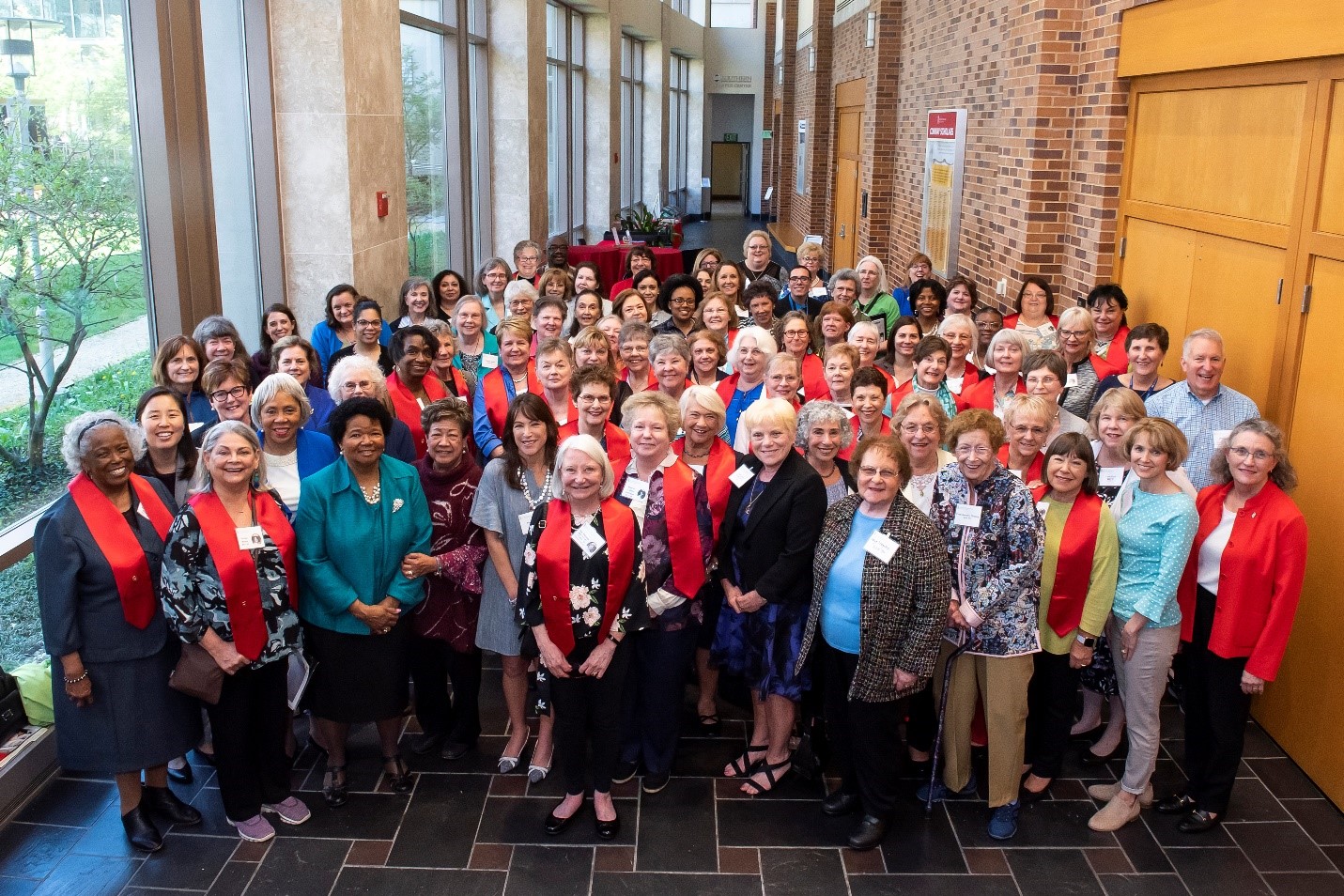 UMSON Virtual All-Alumni Reunion 2021
Saturday, April 24, 2021
Online via WebEx
All UMSON alumni are invited to join us online for an afternoon filled with exciting presentations and discussions, and lots of UMSON spirit! Stay safe and strong!
Once your registration has been received, we will send instructions for accessing the virtual sessions you have selected.
More Information
Time

Session

12:30 - 1:30 p.m.

Reunion Program

Welcome by Ruth Lee, DNP '10, MS '04, MBA, RN, NEA-BC
Dean Jane Kirschling's Highlights
Class of 1971 Heritage Class Induction
Distinguished Alumni Award Presentation to J. Taylor Hayden, PhD, MS '77, BSN '72, RN, FGSA, FAAN

1:45 - 2:45 p.m.

Continuing Education Program Session I

COVID-19 Pandemic: A Local and National Response

Karen Doyle, DNP '20, MBA, MS '91, BSN '85, RN, NEA-BC, FAAN
Senior Vice President, Nursing and Operations, R Adams Cowley Shock Trauma Center
Co-incident Commander for the COVID-19 Pandemic, University of Maryland Medical Center

Helga Scharf-Bell, DNP '16, FNP-BC, MSN, NHDP-BC
Acting Director, National Disaster Medical System, U.S. Department of Health and Human Services

OR

Nursing and Innovation to Serve Homeless Populations During the COVID-19 Pandemic

Catherine Fowler, MPH, BSN, RN
Director of Nursing, Healthcare for the Homeless

Tracy Zvenyach, PhD '18, MS '06, RN
Co-Founder and President, Nurse Disrupted, LLC
Adjunct Assistant Professor, Georgetown University

3 - 4 p.m.

Continuing Education Session II

Giving Birth During the First Wave of the COVID-19 Pandemic: Perspectives from a Sample in the U.S.

Rachel Blankstein Breman, PhD '18, MPH, RN
Assistant Professor, UMSON

OR

COVID-19 Vaccine Development at an Unprecedented Pace: Perspectives from Nursing in Phase I-III Clinical Trials

Ginny Cummings, MS '99, CRNP
Research Study Coordinator, University of Maryland School of Medicine Center for Vaccine Development

Linda Wadsworth, BSN '81, RN
Research Site Coordinator, University of Maryland School of Medicine Center for Vaccine Development

Cynthia Sikorski, BA
Director of Alumni Relations, UMSON
Volunteer, Pfizer BioNTech Phase I Clinical Trial

4:15 - 4:25 p.m.

Alumni Through the Ages Slideshow Presentation

4:30 - 5 p.m.

Breakout Rooms for Informal Networking
Update Your Contact Information
To be sure you receive your invitation, update your contact information using the form below.
Become a Class Representative
Volunteering as a class representative is a wonderful way to reconnect with your classmates! If you would like to help on the reunion planning committee, contact Cynthia Sikorski at 410-706-0674 or sikorski@umaryland.edu.
Class of 1971 50th Anniversary Memory Book
The Class of 1971 Memory Book will be available to all classmates for a modest fee.
If you are a member of the UMSON Class of 1971 and would like to contribute your memories to the Class of 1971 Memory Book in connection with your 50th reunion, please complete the form below by April 1, 2021.
Nurses may receive 2 contact hours for participating in this educational activity. Partial credit is not provided. Participants receive a CNE certificate via email from UMSON approximately two to four weeks after submitting their request, a signed attendance verification form, a completed evaluation form, plus a fee of $10. All requests must be received within 30 days of the conference.
Accreditation Statement: The University of Maryland School of Nursing is accredited as a provider of continuing nursing education by the American Nurses Credentialing Center's Commission on Accreditation.
Conflict of Interest: It is the policy of The University of Maryland School of Nursing to require our continuing education activity (CE) faculty and planning committee members to disclose any financial relationships with companies providing program funding or manufacturers of any commercial products discussed in the program. The planning committee and CE faculty report that they do not have financial relationships with manufacturers of any commercial products they discuss in the program.