Clinical Simulation Labs History
A Brief History of UMSON's Clinical Simulation Labs
The School's current simulation labs were opened as part of the $38 million, 154,000-square-foot new School of Nursing building in 1998, but UMSON's role in clinical simulation began earlier.
UMSON was a model in simulation education for other nursing schools beginning in the 1990s, when patient acuity in hospitals was on the rise. Under the leadership of Dean Barbara Heller, the School opened a $138,000 "mini hospital" for undergraduate students known as the Helene Fuld Nursing Laboratories in recognition of the foundation that funded its creation. Directed by Dr. Elizabeth Arnold, the two-story facility was in the now-demolished Whitehurst Hall.
When plans for the current building were developed, Dean Heller ensured there would be space for a dramatically expanded clinical simulation program. The new labs, and those at the Universities at Shady Grove, were overseen by Debra Spunt until 2007.
In 2004, when UMSON opened its simulated operating room under the leadership of Dean Janet Allan, the School was home to 24 labs, the most of any nursing school in the nation.
---
About Debra Spunt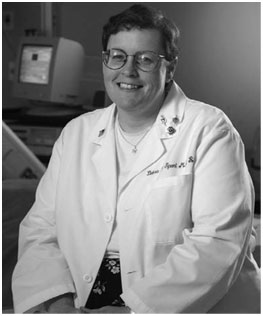 The Debra L. Spunt Clinical Simulation Labs at UMSON are named for Debra L. Spunt, DNP '07, MS '83, BSN '79, RN, FAAN, an assistant professor who served as a faculty member from 1984 to 2007. She directed the Clinical Simulation Labs from their opening in 1998 until her death from cancer in 2007 at the age of 50.
A pioneer in clinical simulation in nursing, Dr. Spunt helped establish UMSON's clinical simulation labs, which now serve as national and international models for student learning. Her expertise for integrating the use of clinical simulation into the educational curriculum garnered worldwide recognition for both Dr. Spunt and the labs. UMSON was twice named a Center of Excellence in Simulation Education by Laerdal Medical, an international manufacturer of interactive computer and patient simulators for educating health care professionals.
As an innovator in simulation learning, Dr. Spunt participated in the landmark 2003 National League for Nursing/Laerdal study, Designing and Implementing Models for the Innovative Use of Simulation to Teach Nursing Care of Ill Adults and Children: A National, Multi-Site, Multi-Method Study. NLN asserts that under Dr. Spunt's leadership, the School's labs were "considered the preeminent nursing student learning labs in the world."
Dr. Spunt was co-founder of the International Nursing Association for Clinical Simulation and served as its first president. She received many honors and awards throughout her life, including induction as a fellow in the American Academy of Nursing.
Following Dr. Spunt's death, the School established the Debra L. Spunt Clinical Simulation Practice and Research Endowment, which allows UMSON to remain on the cutting edge of simulation education.