2017 Symposium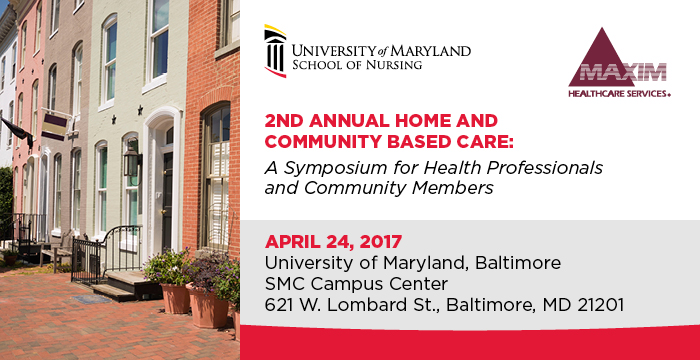 2nd Annual Home and Community Based Care:
Thinking Boldly, Acting Locally: Successful Models for Improving Health Care
Overview
This interactive symposium is designed for health professionals and community members. Participants engage in learning activities that explore the evolution and innovation within home and community based care. This year, we focus the lens on Maryland and exemplars within Baltimore improving health outcomes for individuals and populations. Experts in designing, delivering, evaluating, and receiving home and community based health care services provide a rich and authentic learning experience.
Monday, April 24
8:30 a.m.-3:30 p.m.
Objectives
Upon completion of the symposium, the participant will be able to:
Discuss developments within home based care that align with the national goals of enhancing population health, the patient experience, and reducing the cost of care.
Describe innovations improving health outcomes through delivery of services at home and in the community.
Explain how collaborative relationships among stakeholders are vital to future models of health care.
Location
University of Maryland, Baltimore
Southern Management Corporation Campus Center
621 W. Lombard St.
Baltimore, MD 21201
Continuing Education for Nurses
Nurses may receive up to 6 contact hours for attending this entire learning activity. In order to receive a certificate awarding CEs, a participant must submit (1) a completed and signed verification of attendance form and (2) a completed program evaluation, and (3) a payment of $30. Participants will receive the certificate via email from the University of Maryland School of Nursing (UMSON) within two to four weeks after submitting their request, payments and required documents. All requests for CE must be received within 90 days of the conference.

The University of Maryland School of Nursing is accredited as a provider of continuing nursing education by the American Nurses Credentialing Center's Commission on Accreditation.
No conflict of interest with a commercial interest was disclosed by any of the planners, faculty members, or speakers for this program.
Agenda
7:45-8:30 a.m.

Registration and Continental Breakfast


8:30-8:40 a.m.

Opening Remarks
Patricia D. Franklin, PhD, RN
Assistant Professor, University of Maryland School of Nursing
Chair, Planning Committee



8:40-8:50 a.m.

Welcome
Jane M. Kirschling, PhD, RN, FAAN
Dean and Professor, University of Maryland School of Nursing


8:50-9:50 a.m.
Opening Session: The Future of Home Health Care: From Concept to Execution
Steven Landers, MD, MPH
President and CEO
VNA Health Group
Slides: Landers Presentation
9:50-10:50 a.m.

The University of Maryland St. Joseph's Medical Center and Maxim Healthcare Services Project
Irina Koyfman, NP-C, MSN, RN
Clinical Director of Emerging Solutions
Maxim Healthcare Services
Slides: Koyfman Presentation

10:50-11:15 a.m.

Break and Exhibitors

11:15 a.m.-12:15 p.m.

The Hidden Hero
Megan Smith
Supporting Military Caregivers
And The Role of Health Care Providers
Elizabeth Dole Fellow


12:15–1 p.m.

Lunch; speakers and faculty host round table discussions

1-2 p.m.

The West Baltimore Initiative
Chris Parsons, RN
Program Manager
Jennifer Sulin-Stair, MS
Program Director, The Coordinating Center
Slides: Parsons/Sulin-Stair Presentation

2-3 p.m.

Closing Session:
Next Steps
Dan Look


3-3:15 p.m.

Profiles in Homecare
Keith Jacobs
Director of Business Operations
Maxim Healthcare Services


3:15-3:30 p.m.

Closing Remarks
Keith Jacobs

Registration
Registration fees include all program materials, continental breakfast, lunch, and CE for nurses.
A limited number of scholarships available for students are available. If you are a health profession student, please contact Sonia Smith (sonia.smith@umaryland.edu) prior to registering.
Fees
Students & Medical Residents: $20
Individual: $65


Add CE for Nurses: $30
The Symposium is a collaborative effort between the University of Maryland School of Nursing and Maxim Healthcare. Our aim is to engage health care providers and community members in an informed discussion on trends and forces shaping the future of health care. Further, that these discussions provoke action toward improving health outcomes through enhanced models of home and community-based care.