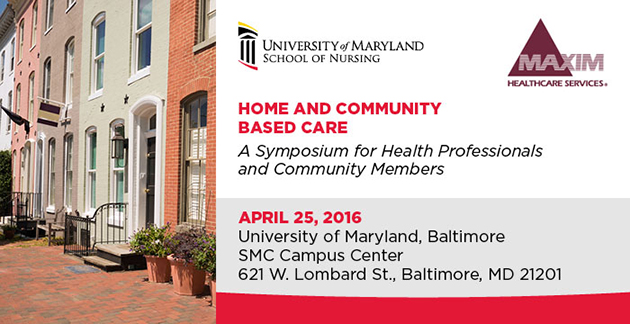 Home and Community Based Care:
A Symposium for Health Professionals and Community Members
Overview
This symposium is designed for health professionals and community members to learn more about the forces shaping health care delivery and to discover how home and community based care models are changing. The symposium and discussion will provoke new perspectives on, and frameworks for, home- and community-based care across the life span. Attendees will learn with and from leaders in health care policy, education, practice, and delivery systems, along with health care practitioners and community members.
Objectives
Participants will be able to:
Identify forces shifting delivery of health care services along the continuum from acute and long-term care to the home and community
Distinguish the principles of transitional and coordinated care and how they support patients throughout the continuum of care
Describe developments within home-based care such as the complexity of patient care needs, the variety of disorders managed in a home setting, the growth of informational technology, and the impact of these issues on patient care management and outcomes
Continuing Education for Nurses
Nurses can receive six contact hours upon successful completion of this educational activity. Successful completion is demonstrated by attending the entire symposium and submitting a completed program evaluation and verification of attendance form. Partial credit is not provided. Participants will receive a continuing education (CE) certificate via email from the University of Maryland School of Nursing (UMSON) within two to four weeks after submitting their request for CE along with required documents. All requests for CE must be received within 90 days of the conference.
UMSON is accredited as a provider of continuing nursing education by the American Nurses Credentialing Center's Commission on Accreditation.
Continuing Education for Social Workers
Professional Education is authorized by the Board of Social Work Examiners in Maryland to sponsor social work continuing education programs and maintains full responsibility for this program. This training qualifies for 6 Category I continuing education units.
Agenda
Click here to download the case studies that will be used at the symposium.
7:45-8:20 a.m.

Registration and Continental Breakfast
Breakfast Sponsored by Gilchrist Services


8:20-8:30

Opening Remarks and Program Logistics

8:30-8:45

Welcome
Jane M. Kirschling, PhD, RN, FAAN
Dean and Professor
University of Maryland School of Nursing

8:45-9:30

Opening Session – Drivers in Health Care: the Factors Shaping Our Health Care Environment and Home-Based Care
Charlene Frizzera
President & CEO
CF Health Advisors
Sponsored by Stella Maris

9:30-10:15

Demographic Trends and the Home Care Space
Ann Horton, MS
Executive Director
Maryland National Capital Homecare Association

10:15-10:30

Break

10:30-11:15

Informational Technology in the Home Care Setting
Gunes Koru, PhD
Associate Professor
University of Maryland, Baltimore County

11:15 a.m.–12:30 p.m.

Lunch, Small Group Discussions, and Networking
Lunch Sponsored by Keswick Multi-Care


12:30-1:30

Adult Case Study #1 with Interprofessional Panel Discussion
Panelists:
Community & Public Health - Marik Moen, MPH, MSN, RN
Case Worker - Jody Luttrell, MSN, RN
Primary Provider - William Queale, MD
Reg. Pharmacist - David Jones, RPh, FASCP
Rehabilitative Services - Vincent M. Conroy, PT, DScPT

1:45-2:45

Pediatric Case Study #2 with Interprofessional Panel Discussion
Panelists:
Case Manager - Jody Luttrell, MSN, RN
Nurse Practitioner - Peggy Dorr, DNP, CPNP
Homecare Nurse - Meaghan Smith, BSN, RN
Reg. Pharmacist - David Jones, RPh, FASCP

2:45-3:15

Home Care Services Recipient: A Personal Perspective and Discussion
Shane Herbert

3:15-3:30

Final Comments/Adjourn
Patricia Franklin, PhD, RN
Assistant Professor & Director of Professional Education
University of Maryland School of Nursing

Keith Jacobs, BA
Director of Business Operations
Maxim Healthcare Services
Registration
Registration fees include all program materials, continental breakfast, lunch, and CE for nurses. (Licensed RNs who are full-time students pay an extra $30 for CE.)
Fees
Full-time Students & Medical Residents: $20
Individual: $65