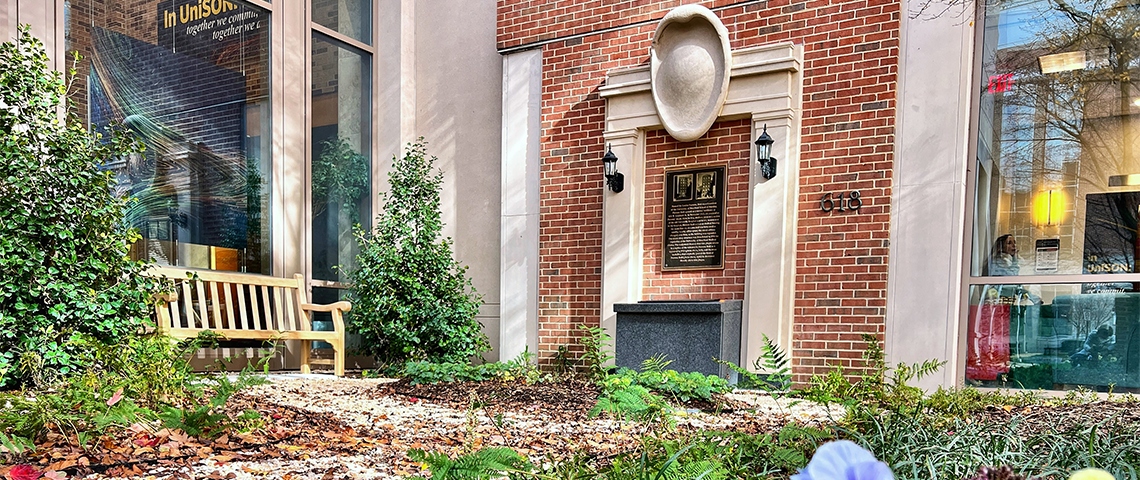 Named for Louisa Parsons, first superintendent of the University of Maryland School of Nursing upon its founding in 1889
Parsons Hall opened as a nursing students' residence at 618 W. Lombard St. in November 1922, six years after Parsons' death and 30 years after her tenure at the then-University Hospital Training School for Nurses. Prior to this, students lived in a section of the old University Hospital and in row houses next to the hospital.
Parsons Hall served as student housing for more than six decades, until the 1980s, and was later used as nursing faculty office space; the street address changed over time, as the building was expanded. The seven-story structure was demolished in 1998 for expansion of the University of Maryland Medical Center. To mark the occasion, the Alumni Association held a Wrecking Ball gala and sold bricks from Parsons Hall as memorabilia.
To honor the memory of Parsons Hall and the many, many nursing students and faculty who occupied it, UMSON recently installed in the Baltimore courtyard a nearly 11-foot-tall, cast stone sculptural replica of the entrance as it appeared in 1922. It includes the stone medallion that later adorned the front exterior, functional lamps, and the original cast iron street numbers. Newly installed landscaping and a new bench accompany the replica.
The replica was unveiled at the All-Alumni Reunion event in September 2022, and a time capsule, to be opened in 25 years, has been sealed inside it.