News Releases
University of Maryland School of Nursing's Warren Serving As Co-Chair for American Nurses Foundation's Nursing Research Grants Program
November 8, 2017
Warren to become chair for 2019.
Baltimore, Md. – Joan Warren, PhD '04, MS '88, RN-BC, NEA-BC, FAAN, University of Maryland School of Nursing (UMSON), has been selected to serve as co-chair of the American Nurses Foundation's (ANF) Nursing Research Grants program for 2018. Warren is serving a one-year term.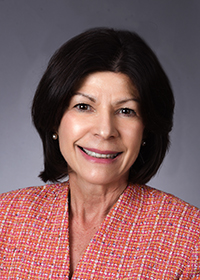 As co-chair, Warren will work closely with the current chair to guide the grant review process. She will then become chair for 2019. Warren has been recognized for advancing the professionalism of nurses and improving hospital environments through research. Additionally, Warren has been instrumental in building structures and developing processes for infusing evidence-based practice and research into the Association for Nursing Professional Development.
"I am extremely honored to be selected as co-chair and future chair of ANF's Nursing Research Grants program. The program has supported beginner and experienced nurse scientists in conducting scientific research across the health care continuum for almost 60 years, and as a former recipient of the grant, I know how meaningful the award is to aspiring nurse scientists for their career growth," Warren said. "I look forward to working with the reviewers and ANF staff in achieving its mission for improving the health of the nation through the power of nursing research."
Each year, through the Nursing Research Grants program, ANF provides funds to nurse researchers to conduct studies that contribute to advancing nursing science and enhancing patient care. The program continues to grow with contributions for nursing research from organizations and individuals. These donations support scientific research for advancing the practice of nursing, promoting health, and preventing disease.
"We want to congratulate Dr. Warren on the honor of being selected as co-chair of the ANF's Nursing Research Grants program," said UMSON Dean Jane M. Kirschling, PhD, RN, FAAN. "Her longstanding commitment to engaging nurses in research and the translation of evidence into practice coupled with her leadership in professional development for nurses make her ideally suited to contribute to this important national program."
ANF is dedicated to transforming the nation's health through the power of nursing. It is the only philanthropic organization with a mission to improve health care and support the 3.6 million nurses across the United States.
# # #
The University of Maryland School of Nursing, founded in 1889, is one of the oldest and largest nursing schools in the nation and is ranked among the top 10 nursing schools in the United States. Enrolling more than 1,900 students in its baccalaureate, master's, and doctoral programs, the School develops leaders who shape the profession of nursing and impact the health care environment.