News Releases
University of Maryland School of Nursing In Top 10 Nationally for All Ranked DNP and Master's Specialties
March 20, 2018
UMSON Nursing Informatics specialty still No. 1 in the nation.
Baltimore, Md. – In the newly released 2019 edition of U.S. News & World Report's "America's Best Graduate Schools," the University of Maryland School of Nursing (UMSON) is included in the top 10 nationally for all ranked master's and DNP specialties. The School's master's-level Nursing Informatics specialty remains No. 1 in the nation.
UMSON's overall Doctor of Nursing Practice (DNP) program is ranked at No. 8 with the Adult-Gerontology Acute Care Nurse Practitioner/Adult-Gerontology Clinical Nurse Specialist specialty ascending to No. 3. Its Family Nurse Practitioner, Adult-Gerontology Primary Care Nurse Practitioner, Psychiatric Mental Health Nurse Practitioner – Family, Pediatric Primary Care Nurse Practitioner, and Nurse Anesthesia round out its top-10 DNP specialty rankings. The Nurse Anesthesia specialty rankings were released in the 2017 edition of "America's Best Graduate Schools" and will be in effect until 2021. In addition, two master's specialties — the Clinical Nurse Leader option and Nursing Administration, which represents UMSON's Health Services Leadership and Management specialty — join Nursing Informatics in the top five.
In 2010, the Institute of Medicine's report on The Future of Nursing called on schools of nursing nationwide to double the number of nurses with a doctoral degree. UMSON's DNP program, launched in 2006, has grown significantly over the past five years, currently enrolling 473 students, which is up from 89 students in 2013. Nurse practitioners are answering the call to provide more of the nation's primary care services, especially in rural and underserved areas, and UMSON's DNP program prepares nurses to deliver complex care across the lifespan and to improve patient outcomes through the translation of research into practice.
"It is gratifying to continue to be recognized nationally for our master's and Doctor of Nursing Practice programs and to have our numerous specialty areas receive recognition in the top 10," said UMSON Dean Jane M. Kirschling, PhD, RN, FAAN. "These rankings are a testament to the commitment of our faculty, staff, students, and alumni to excellence in nursing education, research, and practice. The School of Nursing continues to play an important role in state and national efforts to increase the number of nurses with advanced degrees; we believe this is essential to ensuring that nurses are well prepared to meet the needs of our increasingly diverse communities within a rapidly changing health care environment."
Rankings are based on a variety of indicators, including student selectivity and program size, faculty resources, and research activity, and on survey data from deans of schools of nursing that are accredited by the Commission on Collegiate Nursing Education or the Accreditation Commission for Education in Nursing.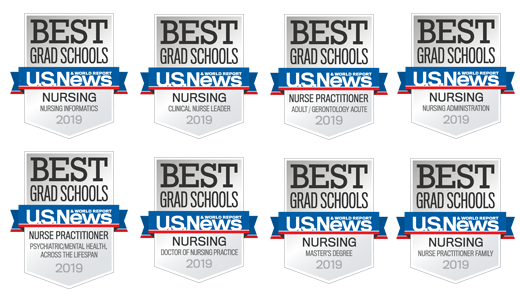 # # #
The University of Maryland School of Nursing, founded in 1889, is one of the oldest and largest nursing schools in the United States and is in the top 10 nationally for all of its ranked master's and DNP specialties. Enrolling nearly 1,900 students in its baccalaureate, master's, and doctoral programs, the School develops leaders who shape the profession of nursing and impact the health care environment.