News Releases
341 Graduates Receive Degrees
June 1, 2017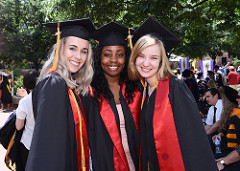 ‌‌School of Nursing graduates celebrated the successful completion of their degrees at Baltimore's Royal Farms Arena on Friday, May 19. The Class of 2017 included 202 Bachelor of Science, 97 Master of Science, 36 Doctor of Nursing Practice, and six PhD graduates.
Dean Jane M. Kirschling, PhD, RN, FAAN, delivered welcoming remarks, and Lisa Rowen, DNSc, MS '86, RN, CENP, FAAN, chief nurse executive, University of Maryland Medical System, and senior vice president of patient care services and chief nursing officer, University of Maryland Medical Center, offered the Convocation address. In her remarks, Rowen spoke to the graduates about taking advantage of the many opportunities the nursing profession offers.
"There are endless opportunities for joy in nursing," Rowen said. "You have the opportunity to turn health care upside-down for the better, increasing access to care for the underserved and offering aggressive follow-up care to the most vulnerable. Opportunity lays at your feet; you are at a favorable juncture of circumstances. The question becomes: what will you do with this opportunity and how will you nurture it and grow it into fulfillment?"
Additionally, Kirschling recognized the School of Nursing's largest donors, William "Bill" and Joanne Conway, for their philanthropy; the couple has given more than $7 million to the School. The Conways were awarded the inaugural Dean's Medal for Distinguished Service, which recognizes individuals who demonstrate an exceptional commitment to advancing the School of Nursing and its mission.
The 2017 Excellence in Teaching Awards were presented to Joan Davenport, PhD '00, RN, assistant professor, for excellence in undergraduate education and Bridgitte Gourley, DNP '08, CRNP, assistant professor, for excellence in graduate education. Jeffrey Johnson, PhD, professor emeritus, carried the School of Nursing mace, leading the processional and recessional.
Later in the day, School of Nursing graduates joined graduates from all seven UMB schools for a Party in the Park at University Square. They enjoyed food, music, and games before participating in the UMB Commencement ceremony, also at Royal Farms Arena.
View photos from the 2017 Convocation.