News Releases
University of Maryland School of Nursing's Trocky Elected to SREB Council on Collegiate Education for Nursing
November 22, 2016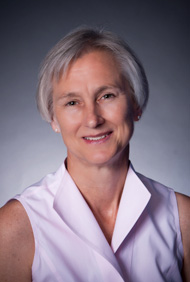 Board informs membership of legislation at state and federal level affecting nursing education.
Baltimore, Md. – Nina Trocky, DNP, RN, NE-BC, CNE, assistant professor and associate dean for the baccalaureate program, has been elected to the 2017 Governing Board of the Southern Regional Education Board (SREB) Council on Collegiate Education for Nursing. Trocky prepared and presented the Maryland Legislative Report for 2015-16 at the council's annual meeting recently held in Atlanta.
The governing board informs its member states of legislation at the state and federal levels that may affect nursing education. Additionally, it encourages nonpartisan advocacy in support of nursing education, and provides necessary information to help legislators and other officials make informed decisions regarding policies affecting nursing education.
"We congratulate Dr. Trocky on the honor of her election to the council's governing board and are pleased that she will be a part of this important collaboration among nursing programs throughout the southern region. Promoting excellence in nursing education, addressing the shortage of nurse educators, and ensuring appropriate training of the next generation of nurses are critical tasks," said UMSON Dean Jane M. Kirschling, PhD, RN, FAAN. "I am confident that Dr. Trocky will contribute to this work and that the School of Nursing will also benefit from the efforts of the council."
SREB is a nonprofit organization representing more than 65 academic nursing programs in the Southern region of the United States, including Maryland and Washington, D.C. The council's mission is to strengthen college-based nursing programs at all levels—associate, bachelor's, master's, and doctoral—preparing registered nurses for entry-level and advanced practice positions.
"I am proud to serve as a board member of the SREB Council on Collegiate Education in Nursing and to represent the state of Maryland," Trocky said. "Nurse educators play a very important role in advocating for patients, students, and nursing practice when involved in the legislative process. For all of the schools located within the Southern region, it is vitally important to stay abreast of the pending legislation and bills that are most relevant to nursing practice."
# # #
The University of Maryland School of Nursing, founded in 1889, is one of the oldest and largest nursing schools in the nation and is ranked among the top 10 nursing schools in the United States. Enrolling more than 1,800 students in its baccalaureate, master's, and doctoral programs, the School develops leaders who shape the profession of nursing and impact the health care environment.