News Releases
Trocky Named Associate Dean for the Baccalaureate Program at University of Maryland School of Nursing
June 2, 2016
Trocky served as interim associate dean for past eight months.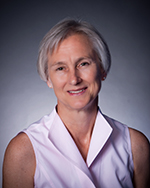 Baltimore, Md. – Jane M. Kirschling, PhD, RN, FAAN, dean, University of Maryland School of Nursing (UMSON), recently named Assistant Professor Nina Trocky, DNP, RN, NE-BC, CNE, the associate dean for the baccalaureate program. Trocky had been serving as the interim since October 2015.
In her new role, Trocky is tasked with staying abreast of and advising on a wide array of academic issues and policies impacting the baccalaureate program. Trocky will facilitate innovative program development and the integration of technology to shape the educational experiences of entry-level students. She will also develop partnerships with other academic institutions and health care organizations to assist with the transition of transfer students and students who are graduates of associate degree nursing programs.
"I am honored to serve as associate dean for the baccalaureate program for one of the finest nursing schools in our state. We have a group of stellar faculty members who are committed to maintaining the academic rigor of our entry-level curriculum, meeting the unique needs of our diverse student body, and contributing to the broader educational experiences of our future bachelor-prepared nurses," Trocky said. "I look forward to supporting the faculty and staff and enabling them to develop competent, compassionate, caring nursing professionals who can effectively deliver safe, high-quality care."
Early in her career, Trocky served for a decade in a variety of staff nurse positions and was a study coordinator at the National Cancer Institute (NCI). Additionally, she worked as a research nurse and multi-center project coordinator for an NCI grant at the Lombardi Cancer Center at Georgetown University Medical Center. Since joining UMSON's faculty in 2006, Trocky has served as co-program director for the Komen Maryland Affiliate Nursing Partnership, program director for the Clinical Research Management graduate specialty, program director for UMSON's RN-to-BSN option, and as a member of the Health Services Leadership and Management faculty.
"Dr. Trocky has consistently proven her abilities as a faculty member and leader at the University of Maryland School of Nursing," Kirschling said. "She has exhibited strong day-to-day management skills and a deep knowledge of the baccalaureate program during her time as interim. I have every confidence that she will do an outstanding job as the associate dean for the baccalaureate program."
Trocky earned a Doctor of Nursing Practice degree from Waynesburg University, post-master's Teaching in Nursing and Health Professions certificate from UMSON, Master of Science in Nursing from The Catholic University of America, and Bachelor of Science in Nursing from Temple University.
# # #
The University of Maryland School of Nursing, founded in 1889, is one of the oldest and largest nursing schools. Enrolling more than 1,700 students in its baccalaureate, master's, and doctoral programs, the School develops leaders who shape the profession of nursing and impact the health care environment.