News Releases
University of Maryland School of Nursing's Trinkoff Co-Authors Award-Winning Training Program
June 29, 2017
Training program team recently won a NIOSH Bullard-Sherwood Research to Practice Intervention Award.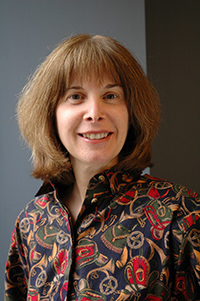 Baltimore, Md. – Alison M. Trinkoff, ScD, MPH, BSN, RN, FAAN, professor, University of Maryland School of Nursing (UMSON), is a co-author on an online evidence-based training program that recently won the 2017Bullard-Sherwood Research to Practice Intervention Award from the National Institute of Occupational Safety and Health (NIOSH). UMSON alumna and former faculty member Jeanne Geiger-Brown, PhD '01, RN, FAAN, dean, School of Health, Stevenson University, also served as co-author.
The team won the award for their NIOSH Training for Nurses on Shift Work and Long Work Hours, which aims to minimize the health and safety risks associated with shift work, long work hours, and related workplace fatigue issues in nurses. Launched in 2015, the training program was developed, managed, and disseminated through the joint efforts of several key partners, including Trinkoff and UMSON colleagues, who conducted pilot testing at the School with the help of student volunteers; Claire Caruso, NIOSH; Masaya Takahashi, National Institute for Occupational Safety and Health, Kawasaki, Japan; and Akinori Nakata, University of Occupational and Environmental Health, Kitakyushu, Japan.
The training program offers nursing continuing education credits through the Centers for Disease Control and Prevention Training and Continuing Education Online. Its goal is to suggest proven interventions to improve sleep and fatigue. The program summarizes research evidence regarding the origin of sleep problems and their relationship to shift work and health issues. After reviewing the summary, nurses are advised on how to overcome their sleep issues.
According to the American Nurses Association, 74 percent of nurses who responded to a 2011 survey reported the acute or chronic effects of stress and being overworked as their top health and safety concern. Additionally, 55 percent of respondents reported working 41-60 hours per week, 56 percent reported their usual shift was 10 or more hours, and 53 percent reported working some mandatory or unplanned overtime each month. These demanding hours and work requirements often lead to difficulties with sleep. Several studies have found that when those who do shift work or work long hours do not get sufficient sleep, cognitive performance declines, increasing the risk for personal injury to the nurse and for patient care errors.
"It is very rewarding to be recognized for this innovative nurse fatigue training," Trinkoff said. "I'm happy to say that it has already helped thousands of nurses, and the training program will continue to support the nursing profession by empowering nurses to improve their sleep and fatigue problems."
"We are thrilled to have this important training program recognized with a prestigious Bullard-Sherwood Award," said UMSON Dean Jane M. Kirschling, PhD, RN, FAAN. "This work represents the very best type of collaborative effort, engaging faculty from the School of Nursing, numerous experts from other institutions, Fellows of the American Academy of Nursing, and staff from the American Nurses Association, among many others. The resulting product fills an important need for a free, comprehensive, online training program that helps to address the significant health and safety risks linked to shift work and long hours for nurses. We applaud the entire team for their contribution to improving nursing practice."
NIOSH Scientific Awards are presented annually to recognize significant accomplishments in research, partnership, research translation, career achievements, and service.
# # #
The University of Maryland School of Nursing, founded in 1889, is one of the oldest and largest nursing schools in the nation and is ranked among the top 10 nursing schools in the United States. Enrolling more than 1,800 students in its baccalaureate, master's, and doctoral programs, the School develops leaders who shape the profession of nursing and impact the health care environment.