News Releases
Three University of Maryland School of Nursing Faculty Members Receive NIH Grant to Fund UMB Oasis Center
August 31, 2016
‌Chronic pain is a major public health epidemic that affects more than 116 million Americans.
Baltimore, Md. –Three University of Maryland School of Nursing faculty members have been awarded a grant from the National Institutes of Health (NIH) to fund the University of Maryland, Baltimore's Omics Associated with Self-management Interventions for Symptoms (OASIS) Center. Susan G. Dorsey, PhD '01, MS '98, RN, FAAN, professor and chair, Department of Pain and Translational Symptom Science; Cynthia L. Renn, PhD, RN, associate professor; and Barbara Resnick, PhD '96, RN, CRNP, FAAN, FAANP, professor and Sonia Ziporkin Gershowitz Chair in Gerontology, will receive more than $2.7 million over five years. ‌
According to the Institute of Medicine's report on Relieving Pain in America, chronic pain is a public health epidemic that affects more than 116 million Americans, costing more than $600 billion each year in health care expenses and lost work productivity. Despite advances in conventional pharmacological treatments, that are informed by the current understanding of basic biological mechanisms of chronic pain, most people do not obtain adequate pain relief.
Various types of self-management interventions have been tested, including cognitive behavioral therapy, non-pharmacologic treatments, and exercise/physical activity. OASIS will conduct studies in both rodent models and patients in chronic pain. They will carefully characterize pain and related co-morbid symptoms with cutting-edge omics methods (e.g., transcriptomics, epigenomics, metabolomics, proteomics) to advance the understanding of how individual differences influence one's resilience, motivation, and capability to engage in physical activity and exercise as self-management tools to manage chronic pain.
"We are pleased that the new OASIS center has been funded. The center is highly interdisciplinary, and both clinical and pre-clinical animal model studies will be conducted," Dorsey said. "This award is timely with the recently released National Pain Strategy and Centers for Disease Control's guidance on opioid use."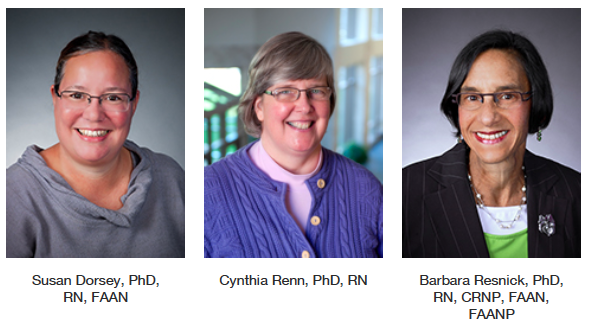 # # #
The University of Maryland School of Nursing, founded in 1889, is one of the oldest and largest nursing schools. Enrolling more than 1,700 students in its baccalaureate, master's, and doctoral programs, the School develops leaders who shape the profession of nursing and impact the health care environment.