News Releases
School of Nursing Staff Members Honored at Anniversary Ceremony
April 9, 2015
Members of the School of Nursing gathered on Thursday, April 2, for a ceremony and reception celebrating staff anniversaries. Dean Jane M. Kirschling, PhD, RN, FAAN, recognized 17 staff members who have been with the University of Maryland, Baltimore (UMB) for five, 10, 15, or 20 years. The honorees' anniversaries must have occurred between June 1, 2014, and May 31, 2015.
Phyllis Lovito celebrated 20 years of service, and Kathy Davis, Allison Hewitt, Sonia Smith, and Charlotte Weber have all reached the 15-year mark. Kathie Dever, Lori Harris, Memory Jackson, Nancy McDowell, and Nicole Willhide have been with UMB for 10 years. and Dan Alcott, Amy Connor, Dardanelles Este,; Katie Hern, Victoria Laubach, Neil McGinn, and Cynthia Sikorski celebrated their five-year anniversaries.
Honorees received a certificate and a pin engraved with their number of years of service. The staff anniversary celebration will now take place annually.
"Every day our staff members bring their talents and passion for students to the School. Their hard work and dedication does not go unrecognized," Kirschling said. "Our staff is absolutely essential to meeting the School's vision of developing leaders in nursing education, research, and practice, and they deserve to be recognized for their vital role in our mission."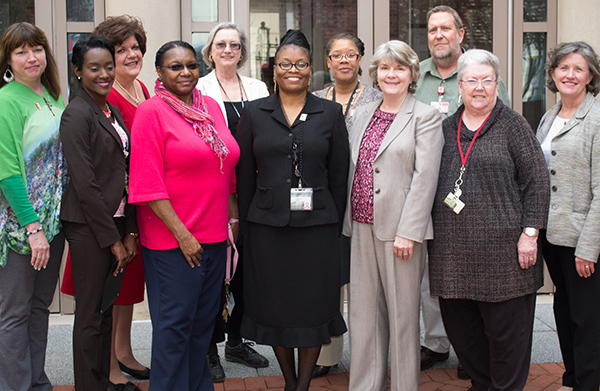 ‌