News Releases
University of Maryland School of Nursing Receives Accreditation from Society for Simulation in Healthcare
May 20, 2015
UMSON houses one of two simulation labs that are accredited in the Mid Atlantic.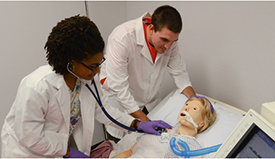 Baltimore, Md. – The University of Maryland School of Nursing (UMSON) is pleased to announce that the Debra L. Spunt Simulation Laboratories have received accreditation in teaching and education from the Society for Simulation in Healthcare (SSH). UMSON is one of only two simulation laboratories that are accredited in the Mid-Atlantic region. SSH seeks to improve performance and reduce errors in patient care through the use of simulation.
In March 2015, SSH conducted a one-day, onsite, structured review of UMSON's simulation lab program, which entailed a survey team vetting criteria unique to UMSON's program, with the goal of supporting efforts to improve operations and overall outcomes. After the site visit, the survey team presented its findings to SSH's Accreditation Board of Review. Highlights from SSH's findings include the Board being impressed with UMSON's debriefing workshops held for faculty 10 times each year; dedication to scholastic improvements to courses; collaboration between UMSON's standardized patient and clinical simulation lab programs, which strengthens the learning environment; and the student-peer tutoring program.
A program seeking SSH accreditation must have a minimum of two years experience in the functional area in which accreditation is sought. Additionally, programs must demonstrate compliance with core standards and fulfillment of standards applied to assessment, research, or teaching and education. Programs that have been accredited through SSH have demonstrated that they have improved health care education through the identification of best practices and recognition of practice; improved health care simulation through providing standardization and a pool of knowledge of best practices; supported education and consultation on good practices and benchmarks to improve business operations; and encouraged the sharing of best practices through education and consultation.
"Simulation represents a paradigm shift in health care education. I am pleased that we are able to provide our students with unique learning opportunities in our labs through improved simulation technology, educational methods, practitioner assessment, and patient safety," said Amy Daniels, MS '12, BSN '89, RN, CHSE, clinical instructor and interim director of UMSON's clinical simulation laboratories. "We pride ourselves on preparing our students to provide excellent patient care, which leads to improved patient outcomes."
# # #
The University of Maryland School of Nursing, founded in 1889, is one of the oldest and largest nursing schools, and is ranked sixth nationally. Enrolling more than 1,600 students in its baccalaureate, master's, and doctoral programs, the School develops leaders who shape the profession of nursing and impact the health care environment.