News Releases
University of Maryland Leaders Join Kirschling to Open New Standardized Patient Program Facility
March 5, 2018
By Kevin Nash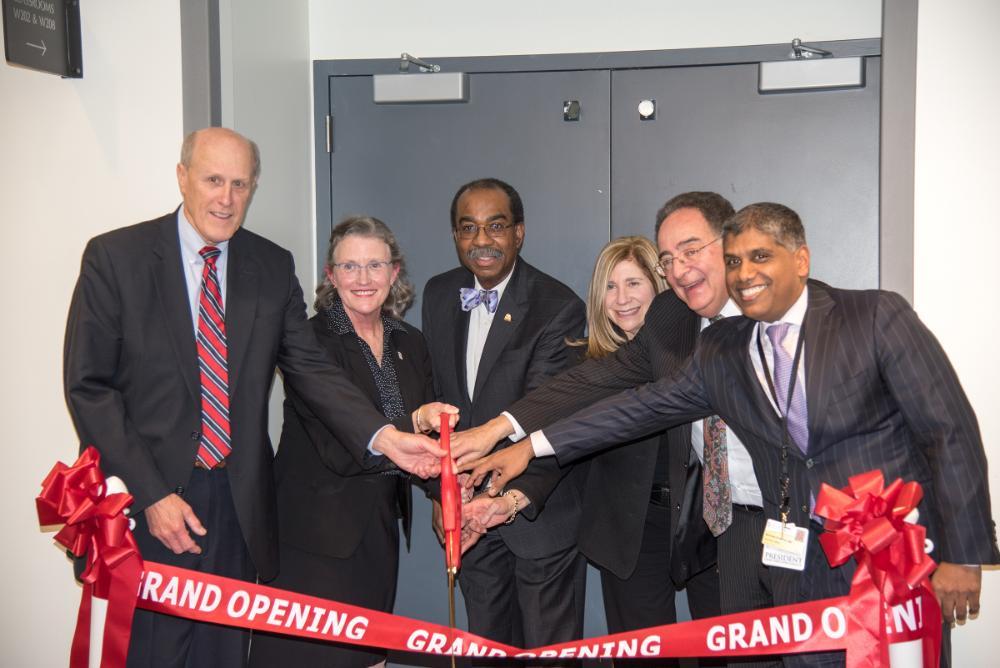 Bruce Jarrell, MD, FACS; Jane M. Kirschling, PhD, RN, FAAN; E. Albert Reece, MD, PhD, MBA; Lisa Rowen, DNSc, RN, CENP, FAAN; Jay A. Perman, MD; and Mohan Suntha, MD, MBA, cut the ribbon for the new Standardized Patient Program facility housed in the School of Nursing.
Dean Jane M. Kirschling, PhD, RN, FAAN, and leaders of the University of Maryland, Baltimore and the University of Maryland Medical Center on March 1 officially opened a new and expanded Standardized Patient Program (SPP) facility — a collaboration of the University of Maryland Schools of Medicine and Nursing — that prepares students to provide the highest quality patient care and fosters interprofessional education.
Kirschling was joined by UMB President Jay A. Perman, MD; E. Albert Reece, MD, PhD, MBA, executive vice president for medical affairs, University of Maryland, Baltimore, and John Z. and Akiko K. Bowers Distinguished Professor and dean, University of Maryland School of Medicine (UMSOM); and Mohan Suntha, MD, MBA, president and chief executive officer, University of Maryland Medical Center (UMMC), University and Midtown Campuses, in discussing the history and benefits of the facility during a ribbon-cutting ceremony that took place just outside of the facility's entrance on the second floor of the University of Maryland School of Nursing (UMSON).
UMSON alumna Lisa Rowen, DNSc, RN, CENP, FAAN, chief nurse executive, University of Maryland Medical System, and senior vice president for patient care services and chief nursing officer, UMMC, and Bruce Jarrell, MD, FACS, executive vice president, provost, and dean of the Graduate School, University of Maryland, Baltimore, joined the others as they cut the ribbon on the expanded and enhanced facilities where learners from the University and across the region can refine their clinical and communication skills with professional standardized patients (SP).
SPs are "trained patients" who offer learners an opportunity to practice history and physical exam skills or who present patient/client case scenarios in a clinical setting. Through SP encounters, learners gain essential experiences that are critical to preparing them for clinical practice and for building a skilled workforce and improving health care outcomes. The encounters are controlled, making them safe for both the student and the SP, and can be reproduced consistently for ongoing standardized assessment and instruction.
"Today, we are celebrating our new and expanded state-of-the-art facilities for the Standardized Patient Program in large measure because of the exceptional partnership that the schools of Medicine and Nursing have with the University of Maryland Medical Center," Kirschling said. "The Medical Center's generosity and shared vision for educating the next generation of health professionals will ensure that our students receive top-notch training to deliver the highest quality of care to the residents of Maryland and our region."
In 2016, UMMC opened a new urgent care center on UMSON's first floor, using the space that the SPP — at that time known as the Clinical Education and Evaluation Laboratory — previously occupied. As a result, the laboratory needed a new home. Through funding from UMMC, the lab was upgraded and relocated to the second floor.
"These partnerships are foundational to how we accomplish our vision. We are ecstatic to be able to support such an important initiative," Suntha said. "I love the fact that the University of Maryland, Baltimore, and the University of Maryland Medical Center are leading what should be the national approach to how we think about innovation in education."
The new facility boasts an environment that looks like a real clinic or hospital setting with eight outpatient exam rooms, four dedicated inpatient spaces, and two counseling rooms. It also offers enhanced realism for SP encounters through a conscious approach to organizational design so that learners and SPs do not cross paths before their encounters.
"We know with certainty how important standardized patient programs are to high-quality education in health professions, and I've seen the power of standardized patients again and again," Perman said. "I not only see how standardized patients make our students better, but also how they make the education that we provide our students better. Facilities like these are how we prepare competent, compassionate professionals."
Additionally, the facility features improved audio/visual capabilities with high-definition cameras, contemporary clinical equipment in the exam rooms, a small-group learning space with equipment for recording, and an SP training room with equipment to record trainings. UMB's Standardized Patient Program provides clinical education to medicine, nursing, pharmacy, social work, genetics counseling, physical therapy, and other health program students. The University also makes its facilities available for training of other health care personnel, such as paramedics and physician assistants, and to other colleges and universities in the region.
"We often talk about collaboration — this epitomizes effective teamwork, which will be to the benefit of our patients," Reece said. "The Standardized Patient Program led by the schools of Nursing and Medicine represents that level of collaboration."
The program employs more than 120 SPs, of which 65 percent are trained actors. In 2017, the SPP facilitated more than 13,000 learner contacts and hosted more than 500 SP events.