News Releases
In Science Magazine: University of Maryland School of Nursing's Colloca On Ground-Breaking Nocebo Effect
October 5, 2017
Study is important for monitoring patient response to painkillers.
Baltimore, Md. – To provide the public with a better understanding of recent ground-breaking research on the nocebo effect, Luana Colloca, MD, PhD, associate professor, University of Maryland School of Nursing, has written a Perspectives article, "Nocebo Effects Can Make You Feel Pain," published in the Science magazine issue released today.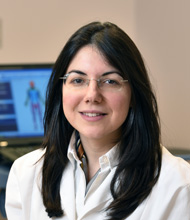 The nocebo effect occurs when a person has a negative expectation of a treatment outcome, leading to adverse effects that otherwise might not occur. Although patient response can often be influenced by expectations, Colloca and her research team have discovered that negative reactions to treatments go beyond psychological responses and actually involve neurobiological mechanisms. Building on Colloca's work and other lab research, a recent study by Tinnermann and colleagues at the University of Hamburg, Germany, showed that when a patient expects to experience more pain, there is an activation of the spinal cord leading to actual increased pain perception.
"If a patient believes the pain is getting worse, even while going through treatment, there may be an increase of the activation of pain facilitatory pathways involving the spinal cord. Tinnermann's study is the first neurobiological demonstration that shows expectations can change brain nociception processing and make people feel more pain," Colloca said. "This and other nocebo studies are important because they suggest that the nocebo phenomenon can change the patient response to pain sensations and painkillers."
Often, successfully overcoming an ailment can depend on past experiences with treatment. Additionally, information provided during the consent process and in the context of patient-clinician communication may trigger nocebo responses. Nocebo effects can contribute to perceived adverse effects and influence clinical outcomes and whether or not a patient adheres to prescribed medication. Nocebo effects should be avoided during clinical trials and practices, according to Colloca. Instead of concealing information related to side effects, a better approach is to minimize nocebo response by tailoring patient-clinician communication to balance truthful information about adverse events with expectations of outcome improvement, exploring patient treatment beliefs and negative therapeutic history, and paying attention to treatment descriptions.
Read Colloca's "Nocebo Effects Can Make You Feel Pain" article in Science.
# # #
The University of Maryland School of Nursing, founded in 1889, is one of the oldest and largest nursing schools in the nation and is ranked among the top 10 nursing schools in the United States. Enrolling more than 1,800 students in its baccalaureate, master's, and doctoral programs, the School develops leaders who shape the profession of nursing and impact the health care environment.