News Releases
University of Maryland Medical System Honors Chief Nurse Executive By Endowing Scholarship at University of Maryland School of Nursing
August 1, 2017
UMSON and UMMC have forged fruitful partnership during Rowen's tenure.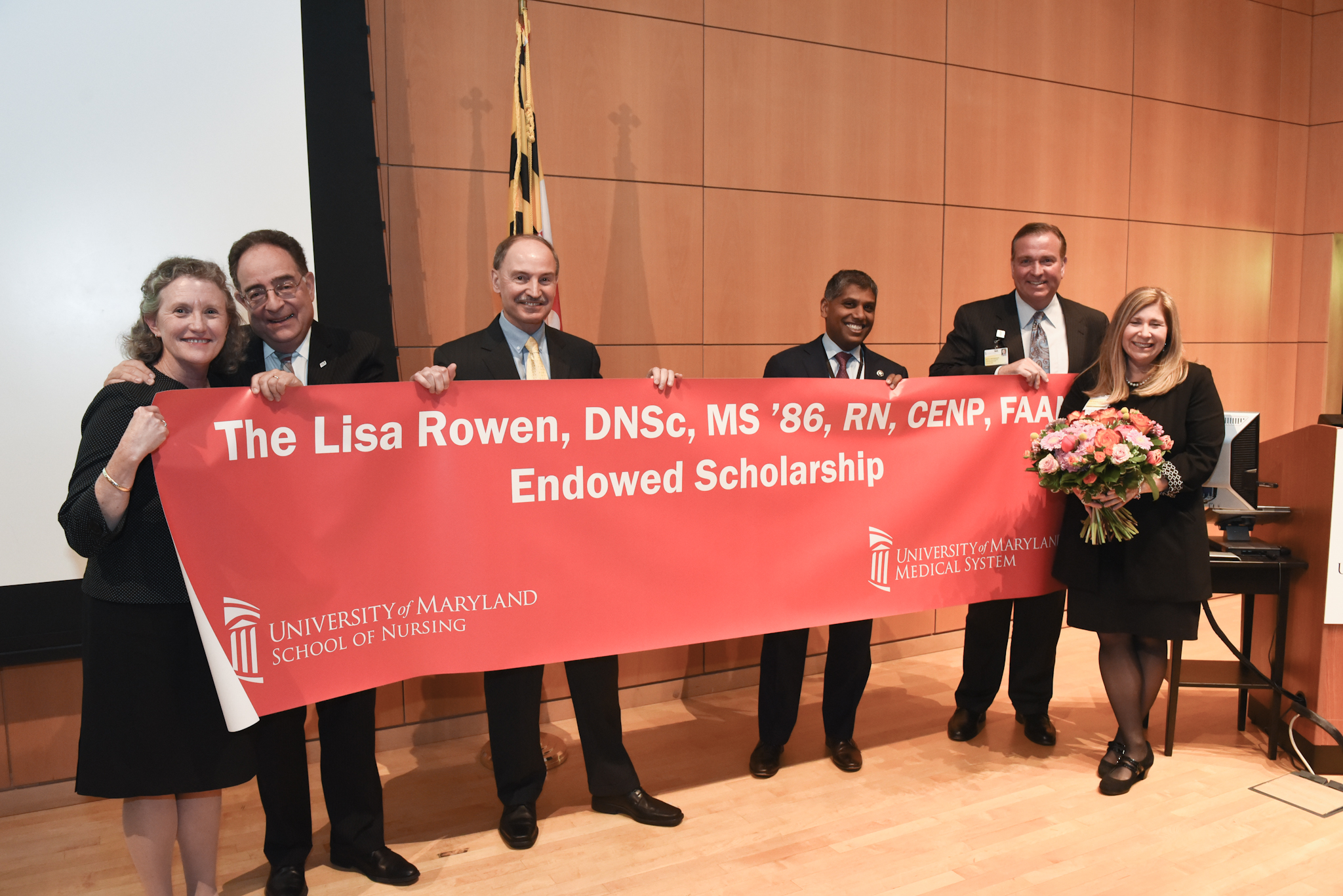 ‌‌‌
Baltimore, Md. – The University of Maryland School of Nursing (UMSON) is pleased to announce that the University of Maryland Medical System (UMMS) has endowed a scholarship in honor of UMSON alumna Lisa Rowen, DNSc, MS '86, RN, CENP, FAAN. Rowen, chief nurse executive for UMMS and senior vice president for patient care services and chief nursing officer at the University of Maryland Medical Center (UMMC), is being honored for her leadership and dedication to nursing practice, education, and research.
"When we were approached by Dean Kirschling and the School of Nursing about endowing a scholarship, we agreed it was a wonderful way to honor Dr. Rowen and to inspire future nurses pursuing their education at one of the country's best nursing schools," said Robert A. Chrencik, UMMS president and chief executive officer. "Across our health enterprise, we are fortunate to have nurses and nurse leaders who ensure that compassionate, high-quality patient care is at the core of all we do."
Beginning in fall 2018, the Dr. Lisa Rowen Endowed Scholarship will be available annually to UMSON undergraduate students who exhibit great leadership potential. Since Rowen became UMMC's chief nurse officer in 2007, UMSON and the hospital have enjoyed an expanded partnership. Many UMSON nursing students complete their clinical rotations on UMMC units, and the medical center is also the largest employer of UMSON graduates.
"We are thrilled that UMMS has chosen to honor Dr. Rowen through this scholarship," said Dean Jane M. Kirschling, PhD, RN, FAAN. "In addition to her extraordinary 10 years of leadership at UMMC, she has played a central role in developing UMNursing, an innovative academic-practice partnership between the medical center and UMSON that promotes professional development for nurses through opportunities for education, research, and practice focused on optimizing health outcomes."
Additionally, Rowen is one of UMSON's visionary pioneers. UMSON Visionary Pioneers are expert clinicians, educators, and leaders in Maryland, the nation, and around the world. They have made a significant impact on and contributions to the nursing profession based on their leadership, innovation, or entrepreneurship. Rowen oversees nursing at the 12-hospital UMMS, setting the standard for nursing practice, standards of care, and issues related to and of importance to nurses. She has also played a major role in UMSON's statewide Nurse Leadership Institute, which builds leadership capacity in nursing faculty and clinicians, thereby improving health care delivery throughout Maryland.
"The endowed scholarship was such a wonderful surprise," Rowen said. "I am humbled and delighted by the University of Maryland Medical System's recognition of both the nursing profession and me. I can't think of a more gratifying honor than one that supports the education of future nurses, especially for the students who are learning at UMSON, an institution that has played such an integral role in my education and professional career."
# # #
The University of Maryland School of Nursing, founded in 1889, is one of the oldest and largest nursing schools in the nation and is ranked among the top 10 nursing schools in the United States. Enrolling more than 1,800 students in its baccalaureate, master's, and doctoral programs, the School develops leaders who shape the profession of nursing and impact the health care environment.