News Releases
University of Maryland School of Nursing's Resnick Receives David H. Solomon Public Service Award
June 14, 2017
‌
Resnick celebrated for her mentorship and contributions to geriatrics. ‌
‌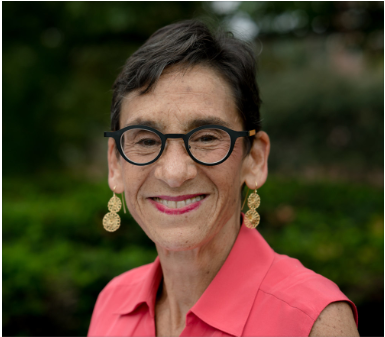 Baltimore, Md.– Barbara Resnick, PhD '96, RN, CRNP, FAAN, FAANP, professor and Sonia Ziporkin Gershowitz Chair in Gerontology, University of Maryland School of Nursing (UMSON), received the American Geriatrics Society's (AGS) David H. Solomon Public Service Award, in recognition of her career accomplishments, at the Society's Annual Scientific Meeting in San Antonio. The award celebrates the legacy of David H. Solomon, MD, AGSF, a renowned geriatrician committed to community service and advancing knowledge about the care of older individuals.
Resnick, who is internationally renowned for her research on exercise and mobility for the elderly, has served as a mentor to countless students, faculty members, researchers, and clinicians who serve older adults. Throughout her career in higher education, which has spanned more than two decades, Resnick has focused on clinical work as a geriatric nurse practitioner.
"We congratulate Dr. Resnick on this tremendous honor. Her work on treatment fidelity and function-focused care exemplifies how innovative and rigorously conducted research can change the delivery of care for countless individuals," said UMSON Dean Jane M. Kirschling, PhD, RN, FAAN. "Dr. Resnick continues to shape our understanding of the dynamics of healthy aging and to translate her findings and insights into the clinical practice and policy arenas. Each one of us either is or will be a beneficiary of her work as a researcher and as an educator and a mentor to the next generation of geriatric care providers and scientists."
Resnick has also provided primary care to older adults across all long-term care settings and facilitated healthy aging in senior housing complexes. Additionally, Resnick serves as editor of Geriatric Nursing and Geriatric Nursing Review Syllabus and as associate editor of numerous other journals related to research on aging.
"I am honored to be recognized by AGS for work that I love doing—developing and implementing evidenced approaches to providing optimal care for older adults and mentoring others to do likewise," Resnick said. "I continue to be appreciative of the interdisciplinary approach AGS has established over the past decade in recognizing my peers and me for our roles within the interdisciplinary team."
AGS is a nationwide, not-for-profit society of geriatrics health care professionals that has worked for 75 years to improve the health, independence, and quality of life of older people. It provides leadership to health care professionals, policymakers, and the public by implementing and advocating for programs in patient care, research, professional and public education, and public policy.
# # #
The University of Maryland School of Nursing, founded in 1889, is one of the oldest and largest nursing schools in the nation and is ranked among the top 10 nursing schools in the United States. Enrolling more than 1,800 students in its baccalaureate, master's, and doctoral programs, the School develops leaders who shape the profession of nursing and impact the health care environment.