News Releases
University of Maryland School of Nursing's Renn Awarded $3 Million National Institutes of Health Grant
September 24, 2018
Renn and team studying chronic pain in trauma patients who have lower-extremity fractures.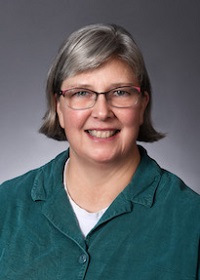 Baltimore, Md. – Cynthia L. Renn, PhD, MS '97, RN, associate professor, University of Maryland School of Nursing (UMSON), has been awarded a five-year, $3,073, 811 grant from the National Institutes of Health to investigate chronic pain in trauma patients suffering from lower-leg fractures. Renn will serve as principal investigator for the study, and she will be joined on the research team by co-principal investigators Susan G. Dorsey, PhD '01, MS '98, RN, FAAN, professor and chair, Department of Pain and Translational Symptom Science, and UMSON alumna Mari Griffioen, PhD '15, MS '07, BSN '04.
Chronic pain is a significant problem for trauma patients, and lower-extremity fractures have the highest incidence rate of chronic pain; the consequences are substantial. According to Renn, individuals with these types of fractures who go on to develop chronic pain at the fracture site miss more days of work and seek medical care more frequently than trauma patients who do not develop chronic pain. They also report experiencing high levels of pain intensity, anxiety, and depression.
"This project is enormously important," Renn said. "Not only as it relates to improving the quality of life for trauma patients, but this study may also shed light on factors that play a role in other chronic pain conditions."
While many patients develop chronic pain at the site of the fracture, there is variability in the number, type, and severity of symptoms, suggesting that genetic or genomic mechanisms may be key contributors. The research team will create a profile of the genes that can be used to identify differences in trauma patients who develop chronic pain as opposed to those who recover from injuries without chronic pain. Additionally, the team will determine if there are physiological or psychological differences in the gene profile that may account for the symptom variability in lower-extremity fracture patients who develop chronic pain versus those who do not. This study will rigorously characterize a group of 240 trauma patients with a tibia and/or fibula fracture and a cohort of 40 healthy controls.
Through the study, Renn, Dorsey, and Griffioen seek to examine if psychological, clinical, and sociodemographic factors are predictive of chronic pain characteristics in patients during the year following a lower-extremity fracture. The team will then construct a database of altered gene profiles — those genes that are different between patients with chronic pain and those without — as well as novel therapeutic targets and pathways for better pain management.
# # #
The University of Maryland School of Nursing, founded in 1889, is one of the oldest and largest nursing schools in the United States and is in the top 10 nationally for all of its ranked master's and DNP specialties. Enrolling nearly 1,900 students in its baccalaureate, master's, and doctoral programs, the School develops leaders who shape the profession of nursing and impact the health care environment.