News Releases
Ogbolu Named Director of Office of Global Health at University of Maryland School of Nursing
August 13, 2015
Ogbolu will ensure the Office of Global Health's activities are aligned with UMSON's strategic plan.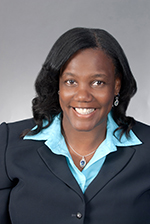 Baltimore, Md. – Jane M. Kirschling, PhD, RN, FAAN, dean, University of Maryland School of Nursing (UMSON), recently announced the appointment of Assistant Professor Yolanda Ogbolu, PhD '11, MS '05, BSN '04, CRNP-Neonatal, as director of the Office of Global Health (OGH). She previously served as deputy director of OGH.
During her tenure at UMSON, Ogbolu has led the School's efforts in West Africa and has been instrumental in its global health efforts with local and international stakeholders. She routinely engages with international regulatory agencies, universities, and ministries of health. In her new role, Ogbolu is responsible for expanding established relationships, programs and partnerships, and ensuring that the OGH's activities are aligned with UMSON's strategic goals.
"Developing global health nurses, leaders, and interprofessional teams who are well-prepared to address critical health challenges that transcend national boundaries is one of the most important priorities for this generation because of the world's increasing interconnectedness," Ogbolu said. "It is an honor to serve as director of the School's global health initiatives and to continue collaborations with local, national, and international colleagues who are committed to advancing health equity and population health locally and globally."
Ogbolu's research focuses on newborn health disparities across the globe, cultural competencies for health professionals and organizations, and building nursing capacities through partnerships with schools of nursing. Additionally, she has led the development of partnerships with multiple universities in Africa through collective engagement, and has served as an expert reviewer for the World Health Organization in developing a curriculum for implementing science research for health professionals in developing countries.
Ogbolu was a 2014 recipient of the Minority Nurses Association of Maryland's Harriet Tubman Legacy in Maternal Child Health Nursing Award. In addition, she was named a University of Maryland, Baltimore (UMB) Champion of Excellence in 2013, and received UMB's Outstanding Faculty Award, a MLK Diversity Award, in 2014.
"As the nurse leader of the Office of Global Health's interprofessional team, Dr. Ogbolu has been instrumental in helping advance UMSON's global health agenda," Kirschling said. "She is well-regarded by her colleagues locally, nationally and internationally, for her collaborative nature and passion for improving health care in underserved nations. I'm looking forward to her leadership of the Office of Global Health."
# # #
The University of Maryland School of Nursing, founded in 1889, is one of the oldest and largest nursing schools, and is ranked sixth nationally. Enrolling more than 1,600 students in its baccalaureate, master's, and doctoral programs, the School develops leaders who shape the profession of nursing and impact the health care environment.