News Releases
Ogbolu Inducted as National Academies of Practice Distinguished Practitioner and Fellow
May 9, 2016
Members serve as advisors to health care policy makers.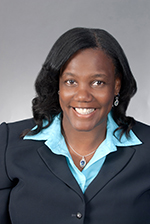 Baltimore, Md. – Yolanda Ogbolu, PhD '11, MS '05, BSN '04, CRNP-Neonatal, assistant professor, and director, Office of Global Health at the University of Maryland School of Nursing (UMSON), was recently inducted as a Distinguished Practitioner and Fellow of the National Academies of Practice (NAP). Distinguished practitioners and scholars represent 14 different health professions and are elected by their peers.
Dedicated to supporting affordable, accessible, coordinated health care for all, NAP is an interdisciplinary, non-profit organization that advises governmental bodies on the U.S. health care system. The 14 academies of practice within the NAP include audiology, dentistry, medicine, nursing, occupational therapy, optometry, osteopathic medicine, pharmacy, physical therapy, podiatric medicine, psychology, social work, speech-language pathology, and veterinary medicine. Members of these 14 health care professions are willing to serve as advisors to health care policy makers in Congress and other venues.
"I am honored to be inducted as a distinguished practitioner in the National Academies of Practice. NAP's commitment to focusing on improving our national health through policy, advocacy, and interprofessional collaboration is well-aligned with my professional and personal goals," Ogbolu said. "Being elected will increase my ability to collaborate with distinguished members to advance the provision of affordable, accessible, and equitable care for all of America's diverse communities."
NAP membership is an honor given to health care professionals who have excelled in their field and are dedicated to furthering practice, scholarship, and policy in support of interprofessional care.
"Dr. Ogbolu has been instrumental in advancing UMSON's global health agenda. She is dedicated to researching newborn health disparities and identifying methods of improving culturally competent care, both of which address pressing health care needs in our society," said UMSON Dean Jane M. Kirschling, PhD, RN, FAAN. "Her efforts are a testament to her commitment to improving population health, and her induction speaks volumes about the impact she has made with organizing and delivering health services to vulnerable populations around the globe."
# # #
The University of Maryland School of Nursing, founded in 1889, is one of the oldest and largest nursing schools. Enrolling more than 1,700 students in its baccalaureate, master's, and doctoral programs, the School develops leaders who shape the profession of nursing and impact the health care environment.