News Releases
University of Maryland School of Nursing Faculty Member Among Daily Record's 2015 Leading Women
December 9, 2015
Program recognizes professionally accomplished women 40 and younger in Maryland.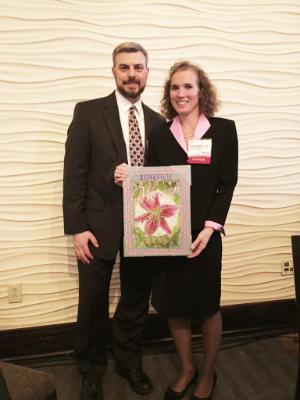 ‌‌Baltimore, Md. – Robyn Gilden, PhD '10, MS '01, RN, assistant professor, University of Maryland School of Nursing (UMSON), has been named one of The Daily Record's 2015 Leading Women. Fifty women were chosen by a panel of judges from nearly 200 nominees.
The Daily Record launched the Leading Women awards program in 2010, in recognition of women in the state of Maryland, age 40 or younger, who have had tremendous accomplishments in their careers. Recipients must have demonstrated that they are professionally accomplished and have a commitment to community service and inspiring change.
"I feel so blessed to be honored by The Daily Record, but I know that I didn't accomplish this all on my own," Gilden said. "If it were not for all of the hard work and dedication of my colleagues and mentors, I would not be where I am today. They deserve to be part of this award as well."
At UMSON, Gilden teaches environmental health to both undergraduate and graduate students, with a focus on raising their awareness about important, insidious issues, and encouraging them to take action. She also mentors with the Alliance of Nurses for Healthy Environment's Steering Committee and Research Work Group. In addition, Gilden volunteers with the American Public Health Association's Environment and Public Health Nursing sections and the Alliance of Nurses for Healthy Environments.
"Dr. Gilden has devoted her career to inspiring change, both within the University of Maryland School of Nursing and the community, through education, research, and advocacy. Through her efforts, she has made a sustained impact on the state of Maryland," said UMSON Dean Jane Kirschling, PhD, RN, FAAN. "We are very proud of Dr. Gilden for being recognized as one of The Daily Record's Leading Women and as a leader in the health care field."
# # #
The University of Maryland School of Nursing, founded in 1889, is one of the oldest and largest nursing schools, and is ranked sixth nationally. Enrolling more than 1,700 students in its baccalaureate, master's, and doctoral programs, the School develops leaders who shape the profession of nursing and impact the health care environment.