News Releases
Three University of Maryland School of Nursing Faculty Members and an Alumna Serving on NPAM Board of Directors
August 29, 2016
NPAM seeks to ensure a sound policy and regulatory foundation that enables NPs to provide accessible, high-quality care.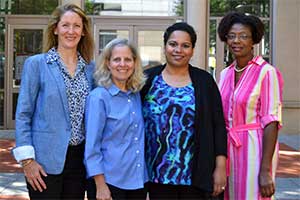 Baltimore, Md. – Three University of Maryland School of Nursing (UMSON) faculty members and an alumna were recently elected to the Nurse Practitioner Association of Maryland's (NPAM) Board of Directors for the 2016-17 term. (l.to r.) Faculty members Roseann Velez, DNP, FNP-BC, assistant professor; Veronica Gutchell, DNP '13, CNS, CRNP, assistant professor; and Ameera Chakravarthy, MS, BSN '02, CRNP, clinical instructor; and alumna Sonia P. Brown, DNP '15, MS '99, ACNP-BC, were selected to the board.
Gutchell, NPAM's president, serves as chief executive officer, NPAM's principle representative and spokesperson, and chairperson of the board of directors and the executive committee. She also presides over all NPAM meetings, with the exception of district meetings; appoints members, with the approval of the board; serves on committees, special assignments, and task forces; and fills vacant positions within NPAM's leadership. Additionally, Gutchell establishes ad hoc committees/task forces, serves as an ex-officio member of all committees and task forces, except for the nominations committee, and delegates appropriate duties to the executive director.
Brown, who is serving as president-elect, assumes the duties of the president during absences or when the president is unable to perform the duties of office, serves on the finance committee, and performs other duties as assigned by the president. Velez, who is NPAM's secretary, records the proceedings of all meetings for the board of directors, executive committee, membership, or president; provides meeting minutes; and with the assistance of the editorial board and the association manager, oversees the publication of The Oracle. As treasurer, Chakravarthy presides over the finance committee; assumes responsibility and accountability for NPAM's fiscal affairs; presents a budget annually to the board; provides budgetary reports to the board and executive committee; and oversees disbursement of funds with approval from the board of directors.
"We are extremely proud that three alumnae from the School of Nursing—three of whom are also faculty members—have been elected to serve as officers of the Nurse Practitioner Association of Maryland," said UMSON Dean Jane M. Kirschling, PhD, RN, FAAN. "Through their volunteer service to NPAM as president, president-elect, secretary, and treasurer respectively, Dr. Gutchell, Dr. Brown, Dr. Velez, and Ms. Chakravarthy are emblematic of the national focus on nurses assuming leadership positions in organizations that are advancing health. I know that they will do an outstanding job in supporting the important work that NPAM is doing to ensure the highest quality of health care for Maryland residents and advance the role of nurse practitioners in meeting the needs of our communities."
# # #
The University of Maryland School of Nursing, founded in 1889, is one of the oldest and largest nursing schools. Enrolling more than 1,700 students in its baccalaureate, master's, and doctoral programs, the School develops leaders who shape the profession of nursing and impact the health care environment.