News Releases
University of Maryland School of Nursing Faculty Member Receives NIH Grant to Study Post-Chemotherapy Pain
September 15, 2016
Many cancer survivors suffer from chemotherapy-induced peripheral neuropathy.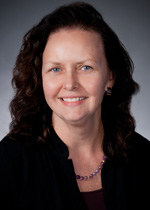 Baltimore, Md. – Kathleen Griffith, PhD '06, MPH, CRNP, assistant professor, University of Maryland School of Nursing, has been awarded a grant from the National Institutes of Health's Eunice Kennedy Shriver National Institute of Child Health and Human Development. The $439,436 grant will fund the research project Exercise Effect on Chemotherapy-Induced Neuropathic Pain, Peripheral Nerve Fibers.
According to the American Cancer Society, there are more than 14 million cancer survivors in the United States. Many suffer from chemotherapy-induced peripheral neuropathy (CIPN), which is caused by a number of chemotherapy drugs. CIPN is associated with numbness and tingling in the hands and feet and often includes neuropathic pain. CIPN-related neuropathic pain (CIPN-NP) may cause long-term suffering, disability, and decreased quality of life. There are no agents available to prevent the development of CIPN, and pharmacologic treatment is suboptimal at best. Aerobic exercise and resistive training interventions in hospitalized hematologic cancer patients have demonstrated delayed onset and reduced severity of CIPN, and improvement in nerve-fiber density has been observed in diabetic neuropathy patients following exercise.
"So many individuals with a history of cancer chemotherapy experience persistent peripheral neuropathy that lasts well beyond treatment completion," Griffith said. It is very important to identify ways in which to manage their symptoms and improve function, and this study aims to accomplish this through the implementation of a supervised exercise trial. We will also be examining peripheral nerve fibers in the laboratory to understand from a mechanistic standpoint how exercise influences this disabling condition."
Through this randomized controlled trial, Griffith and her team seek to examine the effects of aerobic exercise and resistive training on pain perception and function in subjects with CIPN-NP who have completed chemotherapy treatment for at least six months. The team will also test the hypothesis that exercise improves nerve-fiber density in this population.
# # #
The University of Maryland School of Nursing, founded in 1889, is one of the oldest and largest nursing schools in the nation. Enrolling more than 1,700 students in its baccalaureate, master's, and doctoral programs, the School develops leaders who shape the profession of nursing and impact the health care environment.