News Releases
Three from University of Maryland School of Nursing Awarded Nurse Educator Doctoral Grants
February 16, 2017
Recipients will receive a grant to assist with educational and professional expenses.
‌Baltimore, Md. – Three faculty members from the University of Maryland School of Nursing (UMSON) have been awarded a Nurse Educator Doctoral Grant (NEDG) for Practice and Dissertation Research. Clinical instructors Ameera Chakravarthy, MS, BSN '02, CRNP, interim specialty director, Adult-Gerontology Acute Care Nurse Practitioner/Adult-Gerontology Clinical Nurse Specialist; Ernest ‌Opoku-Agyemang, MA, MS, RN; and Mary Pat Ulicny, MS '11, MHA, RN, CNE, clinical simulation lab director for UMSON's Bachelor of Science in Nursing program at the Universities at Shady Grove, all received the maximum award amount of $30,000.
This competitive grant program is designed to assist PhD and Doctor of Nursing Practice candidates by helping to cover costs associated with graduate education expenses; professional development; course release time; research-related administrative support; and project-related expenses for supplies, travel, and document creation. Its goals are to increase the number of doctorally prepared nursing faculty in Maryland, to strengthen faculty development for optimal capacity at schools of nursing, and to recruit and retain a diverse nursing faculty.
"We are extremely grateful for this support to faculty members pursuing doctoral degrees," said UMSON Dean Jane M. Kirschling, PhD, RN, FAAN. "The NEDG program responds to the critical need to increase the number of faculty with advanced degrees and in turn ensures a highly educated nursing workforce for the future. We look forward to the continuing contributions of each award recipient to teaching and research at the School of Nursing."
NEDG is part of the Nurse Support Program II, a statewide initiative funded by the Health Services Cost Review Commission and administered by the Maryland Higher Education Commission. It helps increase Maryland's nursing capacity by supporting initiatives that advance the recommendations outlined in the Institute of Medicine's report The Future of Nursing: Leading Change, Advancing Health.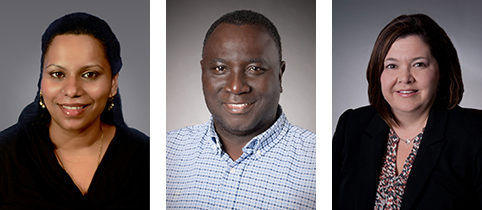 (left to right) Ameera Chakravarthy, MS, BSN '02, CRNP; Ernest ‌Opoku-Agyemang, MA, MS, RN; and Mary Pat Ulicny, MS '11, MHA, RN, CNE‌
# # #
The University of Maryland School of Nursing, founded in 1889, is one of the oldest and largest nursing schools in the nation and is ranked among the top 10 nursing schools in the United States. Enrolling more than 1,800 students in its baccalaureate, master's, and doctoral programs, the School develops leaders who shape the profession of nursing and impact the health care environment.