News Releases
Nahm Using AHRQ Grant to Research Methods to Improve Older Adult's Use of Patient Portals
July 29, 2016
Patient portal use is low nationally.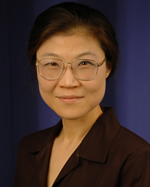 Baltimore, Md. –The Agency for HealthCare Research and Quality (AHRQ) has awarded Eun-Shim Nahm, PhD '03, RN, FAAN, professor and specialty director, Nursing Informatics, University of Maryland School of Nursing, a two-year, $299,960, research grant. Nahm will serve as principal investigator for the research project, A Theory-Based Patient Portal eLearning Program for Older Adults with Chronic Illnesses.
Chronic illnesses are a serious health problem in the U.S. According to AARP, more than
70 million adults age 50 and older suffer from at least one chronic illness. Managing chronic conditions can require long-term, complex treatment plans that can cause unintended errors, leading to detrimental health consequences. Patient portals can assist patients with managing their care. A federally supported form of health information technology, patient portals allow patients to access their health records and directly communicate with their health care provider. Unfortunately, research shows that overall patient portal use is low at 26.8 percent nationally, especially among older adults.
"Patient portals have a great potential to engage and empower patients to better manage their health. While this technology can be especially beneficial for older adults to manage multiple chronic illnesses, most are not using it because they aren't familiar with the technology," Nahm said. "Our prior research findings suggest that older adults are willing and can use patient portals when we teach them in an older-adult, friendly manner."
Nahm's research team aims to develop a theory-based patient portal e-learning program that is user-friendly for older adults and to assess its impact on the use of patient portals and selected health outcomes.
# # #
The University of Maryland School of Nursing, founded in 1889, is one of the oldest and largest nursing schools. Enrolling more than 1,700 students in its baccalaureate, master's, and doctoral programs, the School develops leaders who shape the profession of nursing and impact the health care environment.