News Releases
University of Maryland School of Nursing's Mueller-Burke and Colleagues Using UMNursing Research Grant to Assess Sedation Safety in Children
October 25, 2017
By Kevin Nash
A 6-year old is experiencing a medical issue that doctors are unable to properly diagnose without ordering an MRI. On average, an MRI lasts 30 minutes to an hour and requires patients to lie completely still in a narrow, enclosed space — a tall task for a young child. In cases like these, and for other medical or dental procedures, sedation is often used to allow providers to treat children, especially those younger than 7-10 years old. While sedating a child may allow for successful diagnosis and/or treatment, there are risks. According to a 2015 report in Pediatric Critical Care Medicine, approximately 5 percent of children suffer life-threatening, adverse events while sedated during a procedure.
When colleagues at the University of Maryland Medical Center (UMMC) approached Dawn Mueller-Burke, PhD '01, MS '98, CRNP, NNP-BC, assistant professor, University of Maryland School of Nursing (UMSON), to investigate how children undergoing procedures are being monitored for safe and adequate sedation, it was a well-matched collaboration, as Mueller-Burke had previously worked on an NIH-funded grant regarding sedation in UMMC's pediatric ICU.
Now, Mueller-Burke is teaming with fellow UMSON faculty member Shari Simone, DNP '11, MS '96, CRNP-AC, PPCNP-BC, FCCM, FAANP, assistant professor; and UMMC colleagues Peggy Dorr, DNP, CPNP, pediatric nurse practitioner, Pediatric Sedation Service, and Karen Kaiser, PhD, RN, clinical practice coordinator, Oncology, Pain, & Palliative Care, on a $14,800 UMNursing Collaborative Grant for the joint research project, Testing Reliability, Validity and Clinical Utility of the Richmond Agitation and Sedation Scale in Spontaneously Breathing Children Undergoing a Procedure, which they hope will prevent future sedation/agitation complications in a young population.
The Richmond Agitation and Sedation Scale (RASS) can accurately assess mechanically ventilated, sedated, pediatric critically ill patients. Mueller-Burke and the UMMC team will determine the validity, reliability, and clinical utility of RASS when used by nurses in the largest pediatric population of spontaneously breathing children to be assessed to date. Using a single tool across an institution's care settings may reduce the risk of communication errors due to misinterpretation by providers and staff in different settings. Mueller-Burke expects the team's findings to be applicable to a large procedural sedation population and allow description of procedural sedation patterns, both priorities of a national pediatric sedation professional organization.
"It's great to see UMSON and UMMC nurses collaborating on a nursing project that has clear nursing outcomes. It's really important to determine if the tools nurses use to assess children are good for the task. If they're not, we need to adjust them or develop others," said Erika Friedmann, PhD, professor and associate dean of research, UMSON. "This research will make a meaningful contribution to nursing practice and quality of care for vulnerable children as they undergo procedures required to diagnose and treat their health conditions."
In addition to being exposed to sedatives during procedures more frequently than are adults, children are at risk for adverse events while receiving sedative or analgesic medications because they require a deeper level of sedation and their physiology places them at higher risk for respiratory depression and hypoxia (Cravero, et al., 2006). Although clinical judgment is important, the use of a reliable, valid, clinically useful sedation/agitation tool is critical in determining a young patient's sedation needs. This routine assessment should minimize adverse effects associated with the sedation medications used.
"As a faculty member of the School of Nursing, I'm embracing the opportunity to work with an incredible cadre of nurse scientists and clinicians from UMMC where this idea was born. I look forward to this special opportunity as a joint collaboration between the School of Nursing and UMMC to enable multiple educational opportunities for our doctoral students," Mueller-Burke said. "Linking arms with our fellow DNP and PhD colleagues and the bridging of academic and UMMC resources and expertise exemplifies the goal of true translation of best evidence to practice."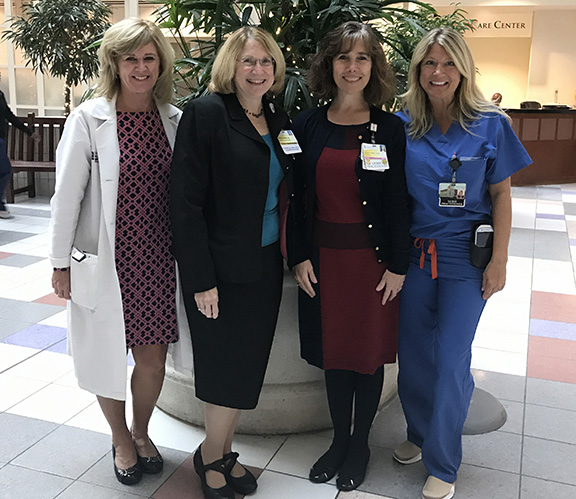 ‌‌From left to right: Shari Simone, Karen Kaiser, Peggy Dorr, and Dawn Mueller-Burke