News Releases
Michael Named Chair of Department of Organizational Systems and Adult Health at University of Maryland School of Nursing
January 11, 2016
Chair seeks to build collaborative relationships inside and outside of department.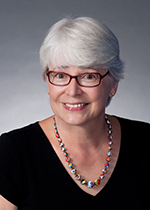 Baltimore, Md. – Jane M. Kirschling, PhD, RN, FAAN, dean, University of Maryland School of Nursing (UMSON), recently appointed Associate Professor Kathleen Michael, PhD, RN, CRRN, as chair of the Department of Organizational Systems and Adult Health (OSAH). Michael had been serving as interim chair since July 2015.
Additionally, Michael is responsible for hiring and developing quality personnel for faculty and staff roles in the department and mentoring, advocating, and fostering their ongoing success.
"I consider it a great privilege to serve the OSAH faculty and staff, and I look forward to sharing a very bright future," Michael said. "While our department consists of a group of individuals with very specific areas of expertise, we will work in synchrony to achieve our goals. Each person has a vital role in preparing students to launch long and successful careers."
Michael's research has focused on gerontology. Additionally, she is knowledgeable in health services leadership and management. She earned a PhD from the Johns Hopkins University School of Nursing; a master's degree in nursing leadership from Seattle Pacific University; and Bachelor of Science in Nursing degree from the University of Washington.
"Dr. Michael has embraced this position with an open-door policy and a listening ear. She has truly demonstrated an unwavering desire to support OSAH faculty and staff members in accomplishing their goals across the University's multiple missions," said UMSON Dean Jane M. Kirschling, PhD, RN, FAAN. "With her extensive experience in nursing as a staff nurse, manager, researcher, and educator − and her increasing scope and complexity of duties across a range of specialty areas − I'm confident she will be successful in leading the department."
# # #
The University of Maryland School of Nursing, founded in 1889, is one of the oldest and largest nursing schools, and is ranked sixth nationally. Enrolling more than 1,700 students in its baccalaureate, master's, and doctoral programs, the School develops leaders who shape the profession of nursing and impact the health care environment.