News Releases
University of Maryland School of Nursing's Lemaire Selected as Honorable Mention Recipient of AACN/CNC CNL Educator Award
March 8, 2017
‌
Lemaire has guided UMSON's CNL option since its inception.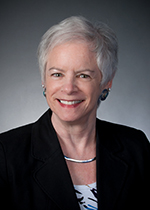 Baltimore, Md. – Gail Schoen Lemaire, PhD '96, PMHCNS, BC, CNL, associate professor and associate dean for the Master of Science program, University of Maryland School of Nursing (UMSON), was awarded honorable mention for the 2017 Clinical Nurse Leader (CNL) Educator Vanguard Award by the American Association of Colleges of Nursing (AACN) and the Commission on Nurse Certification (CNC) at the recent 2017 CNL Summit in Atlanta.
The CNL Educator Vanguard Award recognizes a CNL faculty member or program director for innovative and outstanding preparation of and advocacy for CNLs. The award also promotes the contributions of the CNL faculty member in transforming nursing education and encouraging innovation in both academia and practice.
Lemaire has been instrumental in shaping UMSON's CNL option, currently ranked No. 1 by U.S. News & World Report, since its inception in 2005. She was the program's co-director from 2005-08 and its director from 2011-15. From 2013-14, Lemaire oversaw the revision of the CNL curriculum. Additionally, she has secured $630,000 in scholarships for 63 CNL students through six rounds of funding from the Robert Wood Johnson Foundation's New Careers in Nursing Program during a seven-year period. In her current role, Lemaire oversees the CNL option, teaches CNL classes, and has an active practice as a nurse psychotherapist, providing treatment for patients diagnosed with cancer and psychiatric disorders.
"Dr. Lemaire's recognition is a tribute to her exceptional and pioneering work as an academic administrator establishing and overseeing the CNL program and as a faculty member developing an innovative pedagogy utilizing an array of teaching strategies and learning experiences," said UMSON Dean Jane M. Kirschling, PhD, RN, FAAN. "It takes a special set of talents to forge new ground and create a highly successful program; it is easy to forget that the CNL option, in particular the idea of a second-degree, entry-level program, is just over a decade old. It is a testament to Dr. Lemaire that our graduates model the skills and abilities envisioned when the CNL concept was developed. They are creative problem-solvers, innovators, and change agents and are able to leverage their prior education, work, and life experiences to improve health care delivery."
A CNL is a master's-educated nurse who is prepared to practice across the continuum of care within any health care setting. AACN developed the CNL role in collaboration with leaders from both health care practice and education to address the need to improve patient care outcomes. These master's-prepared clinicians use evidence-based practice to focus on care coordination, risk assessment, quality improvement, and team leadership.
"For more than a decade, it has been a pleasure and my privilege to teach, mentor, and advocate for CNL students at the University of Maryland School of Nursing. CNL students bring enthusiasm, broad perspectives and valuable experiences to the learning environment and ultimately to the practice setting," Lemaire said. "I believe they represent our greatest strength for transforming practice to reduce health disparities and ensure quality health care."
# # #
The University of Maryland School of Nursing, founded in 1889, is one of the oldest and largest nursing schools in the nation and is ranked among the top 10 nursing schools in the United States. Enrolling more than 1,800 students in its baccalaureate, master's, and doctoral programs, the School develops leaders who shape the profession of nursing and impact the health care environment.