News Releases
Trocky Selected to American Association of Colleges of Nursing's Leadership for Academic Nursing Program
July 10, 2017
Program is tailored to aspiring and new deans.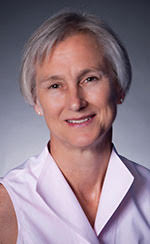 ‌‌‌
Baltimore, Md. – Nina Trocky, DNP, RN, NE-BC, CNE, assistant professor and associate dean for the baccalaureate program, University of Maryland School of Nursing (UMSON), is one of 40 fellows nationwide selected to the American Association of Colleges of Nursing's (AACN) Leadership for Academic Nursing Program (LANP). Trocky is preparing to attend LANP's five-day workshop to participate in intensive classes and exercises related to effective academic leadership, July 16-20 in Chaska, Minnesota.
"We congratulate Dr. Trocky on being selected as a 2017 fellow," said UMSON Dean Jane M. Kirschling, PhD, RN, FAAN. "This outstanding program will provide her with the opportunity to build upon her considerable strengths while acquiring new skills and fresh insights that will benefit her as she leads our baccalaureate nursing program. We are especially grateful to AACN for its ongoing efforts to develop the next generation of leaders in academic nursing."
LANP is a yearlong executive leadership fellowship program tailored specifically for new and aspiring deans and designed to prepare a more diverse, younger pool of leaders to shepherd nursing programs across the globe. This professional development experience encompasses assessment and evaluation of leadership skills, opportunities for strategic networking and case development, consultation for achieving long-term goals, and identification of key partnerships. Fellows are vetted through a competitive application process before selection.
"I am honored to be accepted as a LANP Fellow and am appreciative of Dean Kirschling's nomination. This program offers a tremendous opportunity to work with a faculty mentor to develop a customized professional development plan," Trocky said. "I look forward to challenging my current perceptions about leadership, improving my ability to inspire others, and fine-tuning actions that add value while embracing excellence and inclusion within UMSON."
AACN serves the public interest by setting standards, providing resources, and developing the leadership capacity of member schools to advance nursing education, research, and practice. By 2020, as a driving force for quality health care, AACN will leverage member schools in meeting the demand for innovation and leadership in nursing education, research, and practice.
# # #
The University of Maryland School of Nursing, founded in 1889, is one of the oldest and largest nursing schools in the nation and is ranked among the top 10 nursing schools in the United States. Enrolling more than 1,800 students in its baccalaureate, master's, and doctoral programs, the School develops leaders who shape the profession of nursing and impact the health care environment.