News Releases
Goodwin Selected to American Association of Colleges of Nursing's Leadership for Academic Nursing Program
June 27, 2018
Program is tailored to aspiring and new deans.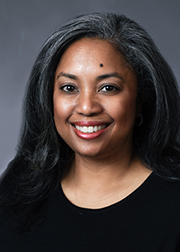 ‌Baltimore, Md.– Jana Goodwin, PhD, RN, CNE, assistant professor and director of the University of Maryland School of Nursing's (UMSON) Bachelor of Science in Nursing program, has been selected to the American Association of Colleges of Nursing's (AACN) Leadership for Academic Nursing Program (LANP). Goodwin is preparing to attend a five-day workshop in which she will participate in intensive classes and exercises related to effective academic leadership, July 29-Aug. 2 in Chaska, Minnesota.
The AACN-sponsored LANP is an executive leadership fellowship tailored specifically for new and emerging executive administrators who aspire to move into senior administrative or executive positions within the nursing academic unit. The yearlong program is designed to prepare a more diverse, younger pool of leaders to shepherd nursing programs across the globe. This professional development experience encompasses an assessment and evaluation of leadership skills, opportunities for strategic networking and case development, consultation for achieving long-term goals, and identification of key partnerships. Fellows also have mentoring opportunities with an experienced dean.
Goodwin is currently responsible for developing and implementing policies and procedures for the BSN program. She also collaborates with UMSON's department chairs, faculty, and the Office of Student and Academic Services for curriculum development; faculty mentorship; quality assurance and improvement; program coordination, planning, and evaluation; and student recruitment, retention, and academic progress.
"We congratulate Dr. Goodwin on this honor. She is highly regarded as an emerging leader and has demonstrated significant expertise on issues of diversity, inclusion, and cultural competence with respect to both learning and practice," said UMSON Dean Jane M. Kirschling, PhD, RN, FAAN. "She is committed to preparing the next generation of nursing professionals to deliver care in a culturally appropriate manner and is a true asset to our program. I look forward to her future contributions as a nurse educator and administrative leader."
This year, 49 fellows were selected from across 25 states through a competitive application process to participate in the program.
"This is such a great opportunity to be able to participate in a program that focuses on enhancing the leadership skills of nurse educators," Goodwin said. "The ability to share ideas and to network with other nurse leaders will be an invaluable experience. I believe that the skills and mentorship gained will be essential to my role as the BSN director at the School of Nursing."
AACN is a unique asset for the nation that serves the public interest by setting standards, providing resources, and developing the leadership capacity of member schools to advance nursing education, research, and practice. By 2020, as a driving force for quality health care, AACN will leverage member schools in meeting the demand for innovation and leadership in nursing education, research, and practice.
# # #
The University of Maryland School of Nursing, founded in 1889, is one of the oldest and largest nursing schools in the United States and is in the top 10 nationally for all of its ranked master's and DNP specialties. Enrolling nearly 1,900 students in its baccalaureate, master's, and doctoral programs, the School develops leaders who shape the profession of nursing and impact the health care environment.