News Releases
Idzik Elected to National Organization of Nurse Practitioner Faculties Board
April 25, 2016
Treasurer oversees NONPF fiscal matters and provides disbursement oversight.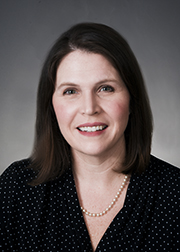 Baltimore, Md. – Shannon Idzik, DNP '10, MS, '03, CRNP, FAANP, associate professor and associate dean of the Doctor of Nursing Practice program at the University of Maryland School of Nursing (UMSON), has been elected treasurer of the National Organization of Nurse Practitioner Faculties (NONPF). Idzik will serve a two-year term.
As treasurer, Idzik serves on NONPF's board, is responsible for all NONPF fiscal matters, and provides oversight for the disbursement of funds. NONPF seeks to provide timely and critical resources for nurse practitioner (NP) educators and to advance innovative models that support NP educational programs to meet the highest quality standards.
"We are at a critical time where nurse practitioners have a unique opportunity to redefine health care from a disease-based approach to a wellness approach. NONPF is the leader in quality nurse practitioner education," Idzik said. "I am thrilled to represent nurse practitioner educators and the School of Nursing in national discussions that not only influence nurse practitioner education, but also inform policy, certification, licensure, and accreditation."
NONPF's board works to promote continuous and collaborative quality improvement and evidence-based approaches to national and global nurse practitioner education, influence policy to advance NP education, foster diversity across NP education, promote scholarship opportunities for NP educators, and strengthen resources to sustain the NONPF membership.
"We are very proud of Dr. Idzik for being elected treasurer of NONPF and for her ongoing role in the organization. Her service to NONPF is emblematic of her commitment to ensuring that nurse practitioner education is of the highest caliber," said UMSON Dean Jane M. Kirschling, PhD, RN, FAAN. "Dr. Idzik has clearly demonstrated her leadership abilities on behalf of nurse practitioner education, research, practice, and service, and has made a lasting contribution to the profession and delivery of health care services in the state. Her contributions now extend to the nation."
# # #
The University of Maryland School of Nursing, founded in 1889, is one of the oldest and largest nursing schools. Enrolling more than 1,700 students in its baccalaureate, master's, and doctoral programs, the School develops leaders who shape the profession of nursing and impact the health care environment.