News Releases
University of Maryland School of Nursing's Idzik Selected to AACN-Wharton Executive Leadership Program
July 25, 2018
Program designed to provide concepts and tools needed to enhance leadership capacity.
‌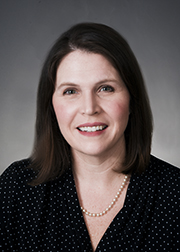 ‌Baltimore, Md.– ‌Shannon Idzik, DNP '10, MS, '03, CRNP, FAANP, FAAN, associate professor and associate dean of the Doctor of Nursing Practice program at the University of Maryland School of Nursing (UMSON), has been selected as a Fellow in the 2018 American Association of Colleges of Nursing (AACN)-Wharton Executive Leadership Program, Aug. 6-9 at the University of Pennsylvania in Philadelphia. Participants come from 19 states and represent an array of institution types, including small, private, public, and large academic health centers.
The program will be taught by faculty from Wharton, the University of Pennsylvania's business school, who will present relevant and timely content designed to advance academic administrators to a higher level of leadership. It is open to deans/directors and associate deans/directors from AACN member schools who currently serve as the chief or associate chief nursing academic officer. Fellows must also demonstrate that they have progressive experience in academic administrative roles and positions and that their professional goals are congruent with the aims of the program.
"I am honored to join this impressive cohort of academic nursing leaders. Leadership development is a lifelong journey for all of us, and today, more than ever, we need a diverse set of skills," Idzik said. "Building strategic relationships and leading change, innovation, entrepreneurship, and negotiation are all in a day's work."
Wharton is recognized globally for intellectual leadership and ongoing innovation across every major discipline of business education. With a broad global community and one of the most published business school faculties, Wharton creates economic and social value around the world, and has more than 9,000 participants in executive education programs annually.
The AACN-Wharton Executive Leadership Program's curriculum is designed to provide the concepts and tools needed to enhance leadership capacity and hone the skills that are essential to thrive and move forward strategically. Additionally, the content addresses issues around managing and leading change, influencing and galvanizing a diverse set of stakeholders, and building enterprising relationships in highly volatile environments. Fellows will leave the program equipped with an advanced set of negotiation, leadership, and influencing skills, as well as the confidence and ability to serve on or lead high-powered boards.
"We congratulate Dr. Idzik on being selected for this significant opportunity and applaud AACN and Wharton for their ongoing commitment to fostering leadership in academic nursing," said UMSON Dean Jane M. Kirschling, PhD, RN, FAAN, who participated in the Executive Leadership Program in 2013. "Dr. Idzik has successfully led the significant growth and development of the School of Nursing's Doctor of Nursing Practice program and has been an active and influential participant in public policy issues related to advanced practice nursing at the state and national levels. I am certain that she will both benefit from and contribute to the leadership program and that it will prove invaluable to her ongoing development as an academic leader within the School of Nursing and the profession."
AACN is the national voice for academic nursing representing 810 schools of nursing nationwide. It establishes quality standards for nursing education, influences the nursing profession to improve health care, and promotes public support of baccalaureate and graduate nursing education, research, and practice.
# # #
The University of Maryland School of Nursing, founded in 1889, is one of the oldest and largest nursing schools in the United States and is in the top 10 nationally for all of its ranked master's and DNP specialties. Enrolling nearly 1,900 students in its baccalaureate, master's, and doctoral programs, the School develops leaders who shape the profession of nursing and impact the health care environment.