News Releases
University of Maryland School of Nursing Awarded HRSA Grant for Nurse Anesthetist Trainee Program
June 19, 2015
Funding will aid anesthesia students with cost of tuition, books, and fees.
‌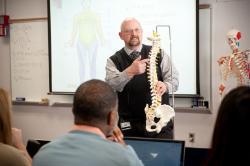 Baltimore, Md. – Joseph E. Pellegrini, PhD, CRNA, associate professor and director of the Nurse Anesthesia specialty at the University of Maryland School of Nursing (UMSON), has been awarded funding from the Health Resources and Services Administration (HRSA) for a nurse anesthetist traineeship program. HRSA provides UMSON with the grant annually in the amount of $39, 741.
The purpose of the trainee program is to produce a more culturally competent and sensitive Certified Registered Nurse Anesthetists (CRNA) workforce through proper education. The grant supports the education of nurse anesthesia students who have pledged to serve the medically underserved upon graduation. Approximately 30 percent of all nurse anesthesia programs receive funding through this grant. Through the program, full-time students enrolled in UMSON's CRNA specialty will have the cost of their tuition, books, and fees covered. Graduates of the program will be eligible for the nurse anesthesia certification examination.
"The School of Nursing has received this grant for the past eight years, which has helped generate approximately $230,000 in support for our students," Pellegrini said. "This grant is important because it helps offset the significant financial burden undertaken by our students since they cannot work while they are matriculating in the program. It also helps produce CRNAs that are well-prepared to work in a variety of medically underserved areas across the country."
HRSA is an agency of the U.S. Department of Health and Human Services, and is the primary federal agency for improving access to health care by strengthening its workforce, building healthy communities, and achieving health equity. Its programs provide health care to people who are geographically isolated, or economically or medically vulnerable.
# # #
The University of Maryland School of Nursing, founded in 1889, is one of the oldest and largest nursing schools, and is ranked sixth nationally. Enrolling more than 1,600 students in its baccalaureate, master's, and doctoral programs, the School develops leaders who shape the profession of nursing and impact the health care environment.