News Releases
University of Maryland School of Nursing's Gutchell Elected State of Maryland Representative for American Association of Nurse Practitioners
May 8, 2018
State representatives advocate for the interests of AANP.
Baltimore, Md. – Veronica Gutchell, DNP '13, CNS, CRNP, assistant professor, University of Maryland School of Nursing (UMSON), has been elected as the American Association of Nurse Practitioners (AANP) representative for the state of Maryland. Her term begins July 1 at the close of AANP's national conference in Denver.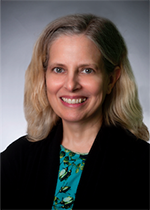 ‌In this role, Gutchell will represent the interests of AANP, its members, and the community at large. She will also function as the key state contact person for the AANP regional director, Board of Directors, committees, and executive staff.
"It is an honor to have been elected as a Maryland state representative. I'm excited to act as a liaison between Maryland nurse practitioners and AANP," Gutchell said. "I will collaborate with state organizations on issues affecting nurse practitioners and offer solutions by connecting them with the available resources provided by the national organization. In turn, I will share with AANP the outstanding work being done by Maryland nurse practitioners who are committed to delivering high-quality health care to Maryland residents."
AANP is the largest professional membership organization for nurse practitioners (NPs) of all specialties. It represents the interests of more than 248,000 licensed NPs in the United States. It also provides legislative leadership at the local, state, and national levels, advancing health policy; promoting excellence in practice, education, and research; and establishing standards that best serve NP patients and other health care consumers. Serving as the voice of the NP, AANP represents the interests of NPs as providers of high-quality, cost-effective, comprehensive, patient-centered health care.
"We congratulate Dr. Gutchell on being elected the AANP representative for Maryland," said UMSON Dean Jane M. Kirschling, PhD, RN, FAAN. "She has demonstrated her deep commitment to advanced practice nursing and will do an outstanding job as a liaison between our state and the national organization. Dr. Gutchell represents nurse leadership at its finest, and I know that in her new role, we will all benefit from her ability to translate the experiences and interests of Maryland's nurse practitioners to leaders at the regional and national level."
# # #
The University of Maryland School of Nursing, founded in 1889, is one of the oldest and largest nursing schools in the United States and is in the top 10 nationally for all of its ranked master's and DNP specialties. Enrolling nearly 1,900 students in its baccalaureate, master's, and doctoral programs, the School develops leaders who shape the profession of nursing and impact the health care environment.