News Releases
326 Graduates Receive Degrees
May 26, 2016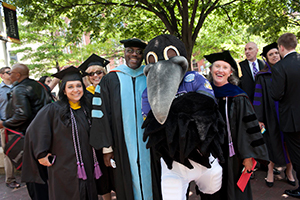 There were bright blue skies over Baltimore's Royal Farms Arena as School of Nursing graduates celebrated the successful completion of their degrees on Friday, May 20. The Class of 2016 consisted of 176 Bachelor of Science, 129 Master of Science, two PhD, and 12 Doctor of Nursing Practice (DNP) graduates.
Dean Jane Kirschling delivered welcoming remarks, and Jennifer Baldwin, MPH, BSN, senior vice president, CareFirst Patient-Centered Medical Home Program, delivered the Convocation address. In her address, Baldwin encouraged the graduates to persevere when pursuing a goal and to surround themselves with people who would encourage them along the way.
The 2016 Excellence in Teaching Awards were presented to Rachel Onello, PhD '15, MS '07, RN, CHSE, CNE, CNL, assistant professor, for excellence in graduate education and to Nicole Smith, MS '14, RN, clinical instructor, for excellence in undergraduate education. Carolyn Waltz, PhD, RN, FAAN, professor, carried the School of Nursing mace, leading the processional and recessional.
In the spirit of true collaboration between disciplines, a mother and son both graduated from the University of Maryland, Baltimore (UMB) in May. Renee Franquiz was hooded as a graduate of the School of Nursing's DNP program ahead of the rest of the DNP cohort. Her son Miguel graduated from the School of Pharmacy that morning as well; however, Renee wanted to attend both ceremonies, which were being held at nearly the same time. Renee decided to be hooded on stage by her scholarly project chair at the beginning of the ceremony so she and her family could attend the pharmacy convocation. Miguel graduated summa cum laude, and is a member of Rho Chi and Phi Lambda Sigma. Additionally, he received the School of Pharmacy's Andrew G. DuMez Award for Superior Proficiency in Pharmacy.
An addition to the 2016 ceremony was the presentation of the DAISY in Training Award. The DAISY Foundation was established in 1999 by the family of Patrick Barnes who died at age 33 from complications of Idiopathic Thrombocytopenic Purpura. The Barnes family felt that Patrick had received excellent nursing care during his illness, so they created the DAISY Foundation to honor nurses. The DAISY in Training Award recipients were Hannah Jean Cacopardo and Rachel Heeter Smith.
Later in the day, School of Nursing graduates joined graduates from all seven UMB schools for a Party in the Park at University Square. They enjoyed food, music, and games before participating in the UMB Commencement ceremony at Royal Farms Arena.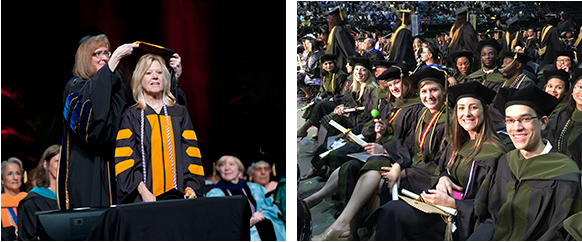 Renee Franquiz (above left) is hooded ahead of the rest of her DNP cohort so she can attend her son Miquel's graduation (above right) from the School of Pharmacy.