News Releases
344 Graduates Receive Degrees
May 19, 2015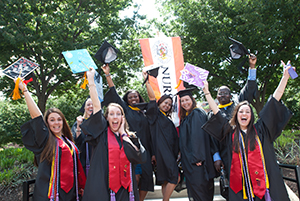 Hugs and tears, smiles and cheers reflected the emotions of the day as School of Nursing graduates celebrated the successful completion of their nursing degrees at Royal Farms Arena on Friday, May 15. The Class of 2015 consisted of 154 Bachelor of Science, 175 Master of Science, six PhD, and nine Doctor of Nursing Practice graduates.
Dean Jane Kirschling, PhD, RN, FAAN, delivered welcoming remarks, and Maureen P. McCausland, DNSc, RN, FAAN, senior vice president and chief nursing officer at MedStar Health, delivered the Convocation address.
"Our society and our profession need clinical nursing leaders, from the patients' side to the board room," McCausland said. "Leaders must have intelligence, cognitive complexity, and a spirit of inquiry." She urged graduates to "never lose touch with your inner nurse." In closing she stated, "Life is only as good as you decide to make it. So stand up, be bold, and don't let anyone else define it."
The 2015 Excellence in Teaching Awards were presented to Assistant Professor Karen Scheu, DNP '12, FNP-BC, for excellence in graduate education, and Assistant Professor Pamela Shumate, DNP '12, RN, CCRN, CMC, for excellence in undergraduate education. Scheu and Shumate were co-carriers of the School of Nursing mace, leading the processional and recessional.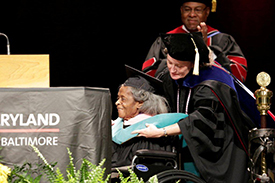 Later in the day, School of Nursing graduates participated in the University of Maryland, Baltimore Commencement ceremony at Royal Farms Arena, where Esther McCready, MM, DIN '53, the first African-American student admitted to the School of Nursing, received an honorary doctor of public service degree. McCready gained admittance to the School after the Maryland Court of Appeals ruled in her favor in April 1950. She was represented by Thurgood Marshall, who had already gained prominence for his work with the National Association for the Advancement of Colored People.