News Releases
Friedmann Awarded IAHAIO's Inaugural Johannes Odendaal Human-Animal Interaction Distinguished Researcher Award
July 20, 2016
Award given for published distinguished HAI research.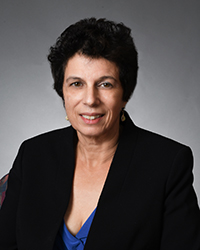 Baltimore, Md. – Erika Friedmann, PhD, professor and associate dean of research, University of Maryland School of Nursing (UMSON), was recently awarded the International Association of Human Animal Interaction Organizations' (IAHAIO) Johannes Odendaal Human-Animal Interaction (HAI) Distinguished Researcher Award at its triennial conference held in Paris. The award is in honor of the late Johannes Odendaal of South Africa for his significant contributions to the HAI field.
This inaugural honor is given to an individual who has produced distinguished HAI research that has been published or accepted for publication in a peer-reviewed journal or as chapters in a book. The published work must have received high reviews in appropriate journals. Additionally, the research is required to be either descriptive or hypothesis-driven and must involve data collection.
"I'm very honored to have received the first Odendaal award. There are so many other researchers who have done important work to move the HAI field forward," Friedmann said. "It's a real validation of my work."
Friedmann was honored for authoring the paper, Pets, Depression and Long-Term Survival in Community Living Patients Following Myocardial Infarction. The paper examined the relationship between pet ownership and improved survival of patients after heart attacks and the benefits of pet ownership for patients who are depressed. Friedmann's research is a follow up to her seminal paper, Animal Companions and One Year Survival After Discharge from a Coronary Care Unit. That paper was the first to use original data to document the long-term contribution of pet ownership to physical health. It stimulated Friedmann and other researchers to examine the role of companion animals in helping their owners reduce stress and anxiety, decrease depression and loneliness, and encourage exercise. The benefits of companion animals have served as the blueprint for a large amount of HAI research that has been conducted over the past 35 years.
"We are extremely proud of Dr. Friedmann's selection as the inaugural recipient of the Johannes Odendaal HAI Distinguished Researcher Award. Dr. Friedmann has been at the forefront of investigating how animals impact human health for decades and has also served tirelessly as a leader in promoting academic, scientific, and scholarly research into HAI at a time when it was a relatively new area of interdisciplinary research," said UMSON Dean Jane M. Kirschling, PhD, RN, FAAN. "She is an embodiment of the pioneering spirit that is so much a part of the School of Nursing, and we all congratulate her on this highly prestigious international honor."
IAHAIO seeks to provide international leadership in advancing HAI through research, education, and collaboration among members, policymakers, clinical practitioners, HAI organizations and the general public. It promotes a forum for collaborating, sharing ideas and information, and educating policy and decision makers at the national and international levels.
# # #
The University of Maryland School of Nursing, founded in 1889, is one of the oldest and largest nursing schools. Enrolling more than 1,700 students in its baccalaureate, master's, and doctoral programs, the School develops leaders who shape the profession of nursing and impact the health care environment.